Find out how we reach over 40,000 individuals every year with our nationwide learning programmes.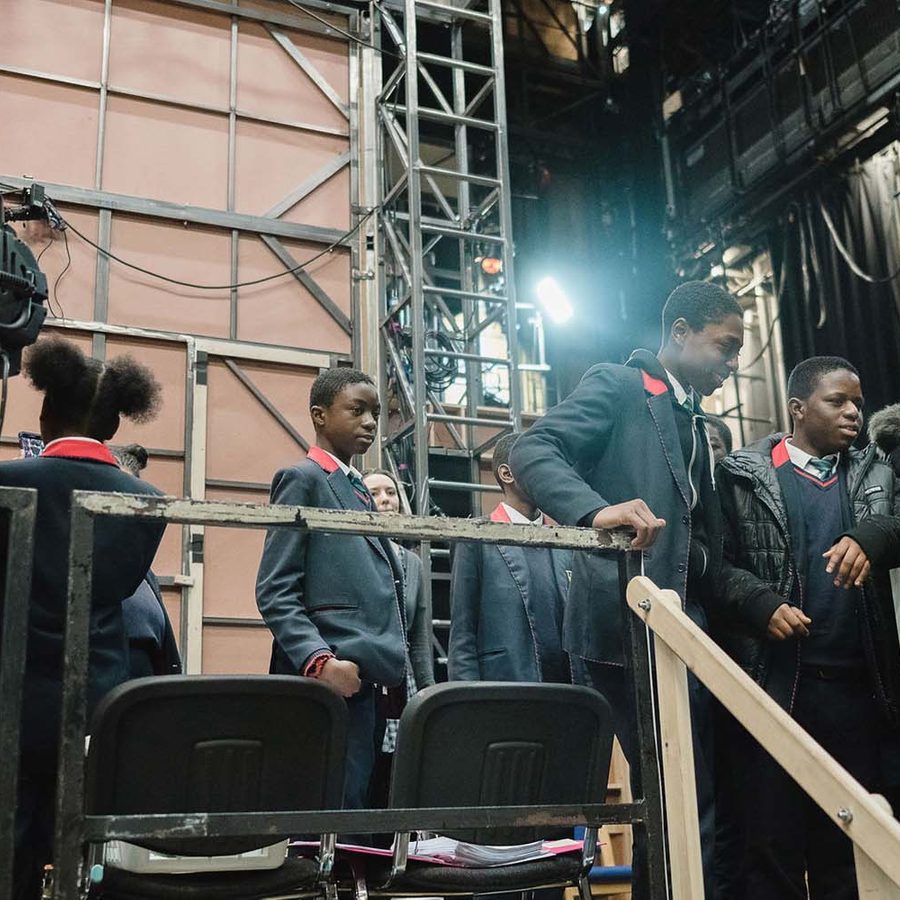 Discover the impact theatre can have on young people's lives
Making theatre at a young age can help young people to develop their creativity, teamwork, social and speaking skills.
Unfortunately, access to these types of opportunities are not always equal. We believe it should be.
Our nationwide learning programmes had over 340,000 participations last year, across 199 local authorities – that's just over half of all local authorities in the UK.
On top of this, we provide UK state schools free access to our digital teaching resources, ensuring world-class theatre is available to stream on-demand in every classroom.
Inspiring future theatre-makers
22,000 young people develop creative skills with us every year.
Our programmes for young people and youth groups champion the talent of the next generation.
We offer exciting opportunities to participate, grow their knowledge about theatre, and introduce young people to viable career pathways. 
Every year, Connections commissions new plays for young people to perform in our nationwide youth theatre festival. We provide all the support to help 250 groups stage their chosen play at one of our 36 partner theatres across the UK.
New Views is our year-long in-school playwrighting programme. The programme includes professional mentoring and the chance for students' to see their work performed on stage at the National Theatre.
Whether or not participants go onto creative careers, these experiences help young people develop crucial social and practical skills, including teamwork, communication, research and independent working.

We create opportunities to learn from the best in the business.
Our Young People's programmes are in-depth opportunities for 13-21 year olds to develop their practical skills for the wide variety of roles on and off stage in theatre.
This includes our Young Producers programme, our Space to Create workshops, and the Young Technicians course.
Without doubt, I wouldn't be working as a professional theatre technician now if I hadn't taken part in the programme.

A participant in the Young Technicians course
Learning through creativity
We help to build essential skills, in the classroom.
Our Let's Play programme helps primary schools embed creative learning across the curriculum – offering teachers and pupils the opportunity to see, make and learn through theatre.
The Let's Perform strand supports teachers to put on amazing school plays, while preparation for the show is woven through lessons in a variety of subject areas.
Elsewhere, our co-creation programme Speak Up works with young people in 55 secondary schools in our Theatre Nation Partnership areas. Working with young people most affected by inequalities, we help them to develop their confidence and leadership skills.


Developing oracy and literacy through storytelling.
We created our free oracy and creative literacy project, Story Seekers, in response to the pandemic.
We're focusing on supporting children to develop their communication and language skills, and to reconnect with their school communities.
Story Seekers challenges children to embark on a quest to find and share what they feel are the most important stories.  Including workshops and performances with professional storytellers, teachers follow a scheme of work developed in partnership with the Centre for Literacy in Primary Education. 
This has really helped their speaking and their listening… and helped to develop their ability to collaborate, which had suffered due to lockdown.

Year 5 teacher, Story Seekers 
The National Theatre is a registered charity. Your support can help hundreds of thousands of people experience the joy of theatre.
85% of UK state secondary schools streaming our shows for free.
Our streaming platform for schools, universities and libraries, National Theatre Collection, makes amazing British theatre available for students and teachers around the world.
It's one of the ways that we're supporting teachers across the country to make a high-quality, creative education possible for all young people.
We also offer schools tickets, teaching resources and videos, and, in targeted areas, touring productions directly into school halls.

We're proud to support over 1000 teachers every year across the country.
Teachers are amazing. By investing in their training and professional development, those benefits ripple out to every young person that a teacher works with.
Many of the programmes we run with schools include professional training for teachers, helping them level up their skills and experience.
Our Drama Teacher Conference sees some of the country's leading theatre-makers come together to inspire and explore current practice with drama teachers from across the country. Last year, over 200 teachers took part.
The conference gave me some ideas I can take away and use straight away with my classes.

Listening to and communicating with professionals in the industry is so important so that we can send out students out equipped with the same kind of vision and passion.

A teacher at the Drama Teacher Conference