National Theatre Collection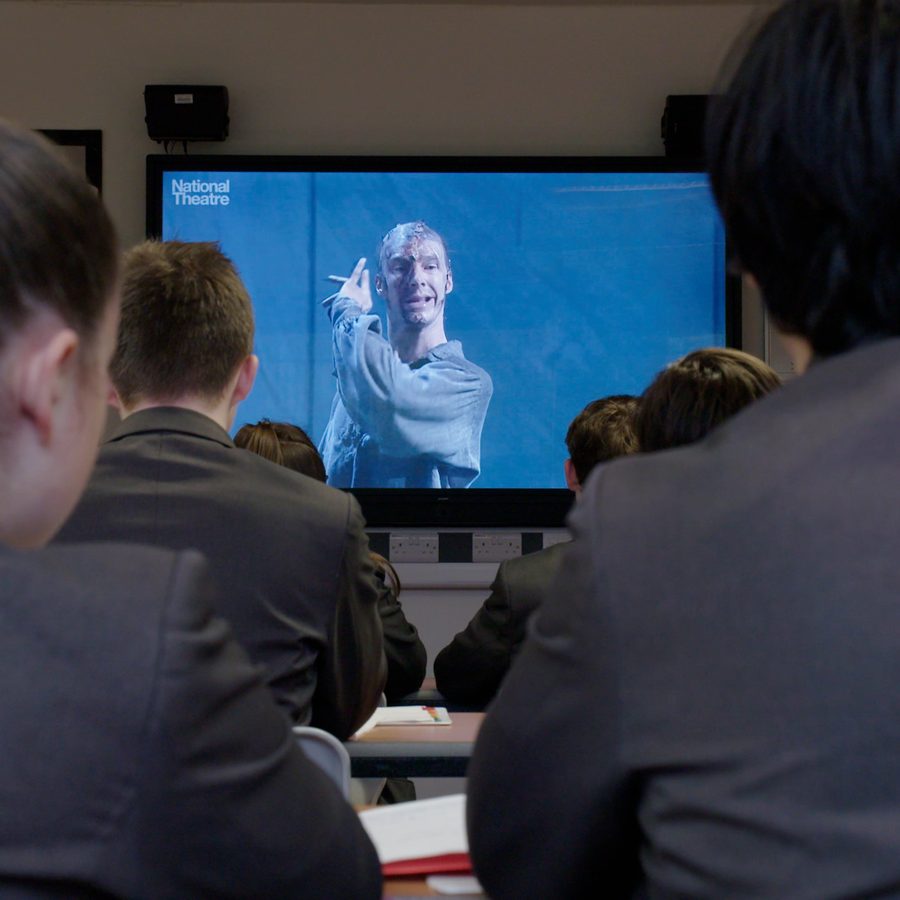 The best of British Theatre is now available to stream for schools, universities, and the wider education sector. Free for all UK state schools (primary and secondary) and FE colleges. 
It is now an irreplaceable part of our curriculum. Thank you so much for it.
Looking for classroom resources? Discover our education packs and rehearsal diaries.
More theatre magic in the classroom 
The National Theatre Collection is now bigger and better than ever, with brand new captivating plays just launched on the platform to inspire learning within the classroom, and now in UK public libraries.
Ten new titles are now available on the Secondary Collection, including curriculum classics The Crucible, Much Ado About Nothing and world-class British plays Phaedra and Our Generation. In partnership with the Unicorn Theatre, bright and imaginative new productions are available for primary students, including Greek myths and adaptations of Grimm Tales.
Teachers and students will be able to access learning resources, which include short films, synopses, key learnings and rehearsal diaries, enriching the experience of the plays in the classroom.
Free for UK state secondary schools & FE colleges

NT Collection title: Peter Pan
Directed by Sally Cookson, devised by the Company, based on the works of JM Barrie
National Theatre & Bristol Old Vic co-production, 2016
Photograph by Steve Tanner
The National Theatre Collection is available to stream in the classroom and at home, offering the best seats in the house whenever you want. Now home to 60 high quality filmed theatre productions from the National Theatre and other leading venues.
You will also be able to access resources, such as rehearsal notes and short films. These can help students to understand the plays and the theatre-making process. 85% of UK state secondary schools are already signed up.
Free for UK state primary schools
Our new bespoke offering for primary schools features 14 age-appropriate productions. Bringing stories to life on stage, they introduce younger children to the magic and spectacle of theatre.
Our tailored learning resources also support creative learning across the curriculum.
Fee-paying schools & international

NT Collection title: Angels in America
by Tony Kushner, directed by Marianne Elliott
National Theatre, 2017
Photo by Helen Maybanks
The National Theatre Collection is available to UK fee-paying schools and worldwide educational institutions as a resource from Bloomsbury on their award-winning platform, Drama Online. It is also available from renowned EdTech leader, ProQuest on their digital library Alexander Street Press.
The National Theatre Collection is available as two modules, which can be purchased separately or as a full package. There are 30 productions in the first Collection, and 20 in the second. A full breakdown of the different modules are found via the links to Bloomsbury and ProQuest.
Purchasing the Collection is available in two models: a one-time payment or an annual subscription.
Free for UK public libraries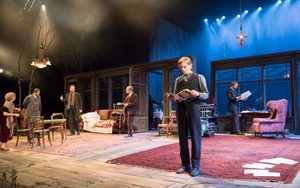 NT Collection title: The Seagull
by Anton Chekhov (adapted by David Hare), directed by Michael Oakley
National Theatre, 2016
Photo by Johan Persson
Following a successful pilot with Wolverhampton Central Library and Peterborough Central Library, the National Theatre Collection is now also available to access for free in local public libraries across the UK to library members, making it easier than ever to watch theatre. 

Productions for primary schools
National Theatre titles
Shakespeare for younger audiences: Romeo and Juliet and The Winter's Tale 
Literary adaptations: Peter Pan, Treasure Island (pictured, by Johan Persson) & Jane Eyre*
NT Let's Play Programme: Story Seekers
Musicals: I Want My Hat Back and wonder.land*

*Jane Eyre and wonder.land contain content that may be inappropriate for young ages. However, they have been used successfully by Year 6 teachers and are included here for those who wish to use it. Content warnings are provided where applicable.
Unicorn Theatre titles
Anansi the Spider Re-Spun
Phillip Pullman's Grimm Tales: Rumpelstiltskin and Little Red Riding Hood
Greek Myths Unplugged: Jessie and the Jellybeans, Ariadne on the Beach & Narcissus

Productions for secondary schools: English
Shakespeare: Romeo and Juliet, Macbeth, Othello, Hamlet, Twelfth Night, Antony & Cleopatra, Much Ado About Nothing, King Lear (Donmar Warehouse), Coriolanus (Donmar Warehouse) & Julius Caesar (Bridge Theatre)
Literary adaptations: Frankenstein, Jack Absolute Flies Again, Jane Eyre, Wuthering Heights, Phaedra, Everyman & Small Island (pictured, by Johan Persson)
20th century classics: Translations, Les Blancs, A View from the Bridge (Young Vic) and All My Sons (Old Vic)
New writing: Shut Up I'm Dreaming (The PappyShow) and Our Generation

Productions for secondary school: Drama & Theatre Studies
Greek tragedy: Antigone & Medea
American classics: Angels in America, A Streetcar Named Desire (Young Vic), Cat on a Hot Tin Roof (Young Vic) & Les Blancs
20th century classics: Top Girls (pictured, by Johan Persson) & The Deep Blue Sea 
European classics reimagined: Hedda Gabler, The Cherry Orchard, The Threepenny Opera & Yerma (Young Vic)
Contemporary plays: Barber Shop Chronicles, Chewing Gum Dreams & Rockets and Blue Lights
Verbatim theatre: Home


Productions for Technical Theatre & Production Arts
Greek tragedy: Paradise
Classic comedies: One Man, Two Guvnors, She Stoops to Conquer & London Assurance
New writing: This House, Dara, After Life & wonder.land (pictured, by Brinkhoff/Moegenburg)
Is the NT Collection available to watch from home?
In partnership with Bloomsbury Publishing, the NT Collection is available from home, for free, by students in UK state-funded schools. Students will be able to watch all 60 productions via Drama Online, with 10 more being available from February 2024. They will also be able to access learning resources and short form video content.
I'm a student, how do I get more information or sign up for this?
The registration form must be filled out by a member of staff at your school. Please get in touch with one of your teachers to ask about gaining access.
What happens if the login is shared beyond teachers and students?
The NT Collection is strictly to be accessed only by teachers and students at verified schools and institutions. We have, with the support of artists, been able to secure specific rights for educational use. We will be monitoring online use of the Collection, and any evidence of logins being shared beyond authorised access will result in the account being blocked and service suspended.
I'm a teacher and having difficulty with the sign-up process. Who can I talk to?
Please email support@jcsonlineresources.org
Is the National Theatre Collection different to National Theatre On Demand In Schools?
Yes. The National Theatre Collection draws on ten years of NT Live broadcasts, alongside recordings never seen before outside of the National Theatre Archive, giving you a more diverse selection of productions. On Demand In Schools has been closed down.
As a UK state school do I have to re-subscribe to access?
No, only one person per school should register and no re-registration is necessary. New productions will automatically be added to state-schools' subscriptions.
What's the difference between Bloomsbury and ProQuest?
Bloomsbury (whose platform is Drama Online) and ProQuest (whose platform is Alexander Street Press) are both distributors of the Collection and have slightly different offerings, so it depends on your preference.
Do I have to belong to an educational organisation to access the NT Collection?
Not solely. The NT Collection is available to educational institutions, but also to public libraries. If you are individual, you can subscribe to NT at Home which makes our productions available to stream from home.
Can I stream shows as a home educator?
Not currently. Unfortunately, due to our rights agreements, we are only able to license subscriptions for the Collection to verified educational institutions or providers of online learning programmes and not to individual parents, teachers or private tutors. We are happy to say that you can now watch the Third Collection titles from UK public libraries, please do contact your local library for more information, or find out how to get your library signed up here.
As a paying subscriber how do I access the new productions?
To access the new titles you will need to top-up your subscription. Please get in touch with Bloomsbury or ProQuest (whomever you purchased through) to update your subscription. Please bear in mind that the Third Collection is only available via Bloomsbury.
Can I buy individual productions?
No, productions in the NT Collection are only available as part of a complete module.
Lead philanthropic support from Richard and Kara Gnodde.
NT Collection is made possible in primary schools by the Hearn Foundation, as the Principal Funder of the Primary Schools programme.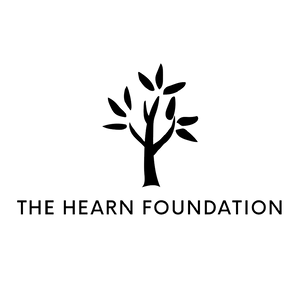 NT Collection is also supported by Bank of America, The Attwood Education Foundation, Sidney E. Frank Foundation, Mike Staunton, The Michael Marks Charitable Trust and The Oakley Charitable Trust. New York City Public Schools access is generously supported by the Jerome L. Greene Foundation.
The Mohn Westlake Foundation supports nationwide Learning programmes for young people. Nationwide learning is supported by Buffini Chao Foundation, Garfield Weston Foundation, Clore Duffield Foundation, Tim and Sarah Bunting, Behrens Foundation, Cleopatra Trust and Milton Grundy Foundation.
Find out more about supporting our work