We're celebrating 60 years on stage with the chance to see our productions for free.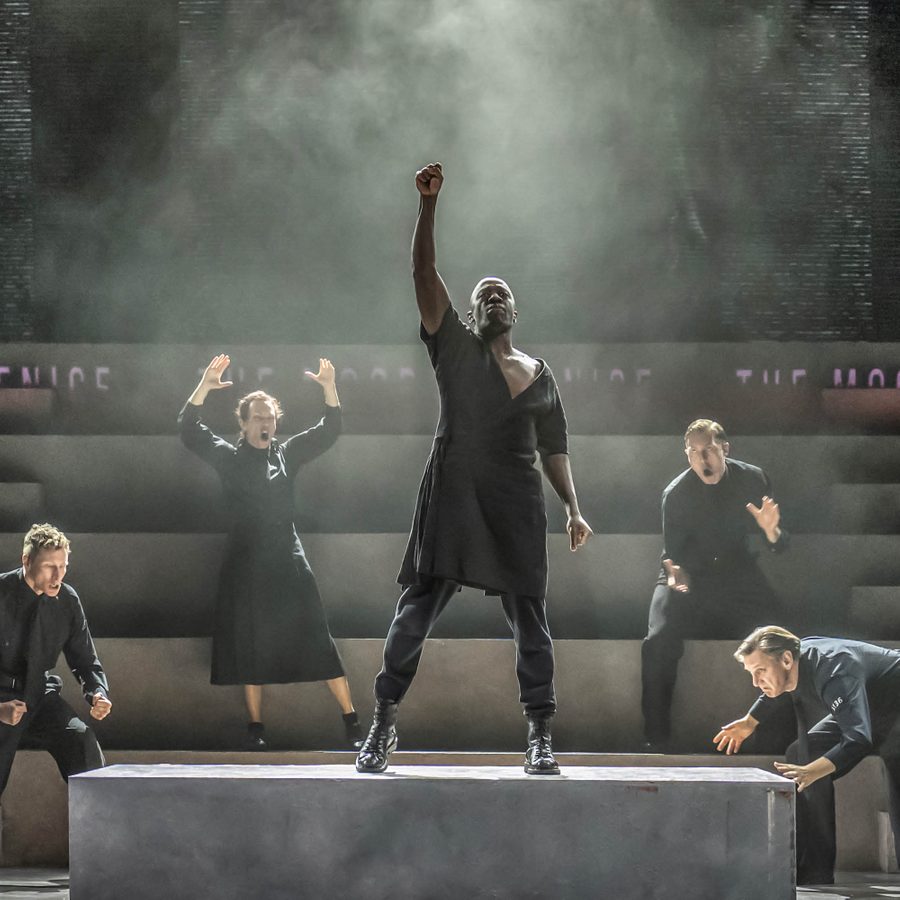 On 22 October we mark 60 years of the National Theatre entertaining and inspiring audiences around the world. To celebrate our birthday, we are making 3,600 tickets available free to 16–25-year-olds, to see our productions on the South Bank and in the West End throughout October.
Audiences across the UK and around the globe are also invited to join our anniversary celebrations with a special free worldwide stream of Othello, directed by our Deputy Artistic Director, Clint Dyer.
Please consider making a donation to support our celebration, and keep theatre accessible to all, on stage and on screen, for the next 60 years and beyond.
I'm thrilled to be celebrating 60 years of our extraordinary creative institution by giving audiences the chance to see our productions for free. Audiences are at the heart of everything we do and throwing open our physical doors to young people and our virtual doors to everyone, wherever they may be in the world, is the perfect way to celebrate.
Rufus Norris, Director, National Theatre
Take your seats at 7pm BST on Thursday 19 October for a special free YouTube stream of Shakespeare's most enduring tragedy, Othello from National Theatre at Home, made possible by Bloomberg Philanthropies.
Olivier Award winner Giles Terera plays Othello with Rosy McEwen as Desdemona in this critically acclaimed production, which will be available to watch for free on YouTube until 22 October. Othello will then be available for free on National Theatre at Home until 26 October, before joining a catalogue of over 70 plays on the platform available to rent of watch via subscription.
Audiences will also be able to watch with Audio Description and British Sign Language, along with dedicated introduction notes. Captions are available on all versions.
Rated 12A.
Free tickets for audiences aged 16–25

Free tickets for UK residents aged 16–25 will be released at 12 noon on Monday 2 October, via our 16-25 tickets scheme.
3,600 free tickets will be made available in total – or 60 tickets for each of the 60 selected performances across October.
Take your seats at any one of these productions: The Father and the Assassin, Death of England: Closing Time, The Effect and The Confessions playing at the South Bank. Plus The Ocean at the End of the Lane and Dear England playing in the West End.
Tickets are limited to two per customer, and will require customers to provide proof of age to qualify.
60 years on stage
For 60 years we've been entertaining and inspiring audiences around the world.
Please consider making a donation to bring more unforgettable stories to stage and screen.
Find out more about the impact you can have when making a gift.
To donate by text
Text,
OTHELLO 10 to 70480 to donate £10
OTHELLO 20 to 70480 to donate £20
Texts cost your donation amount plus one standard rate message. UK networks only.
Alongside the digital innovation that has defined our recent history, this autumn sees a wealth of activity encapsulating the range of work for which we have become known over the past 60 years.
The National Theatre Collection, which is free for state schools to stream productions in the classroom, launches ten new titles on the platform, including The Crucible, Othello and Kiln's production of The Wife of Willesden, Zadie Smith's adaptation of Chaucer's The Wife of Bath.
In November, rehearsals begin for Evan Placey's radical reimagining of Robert Louis Stevenson's classic tale Jekyll & Hyde which will tour directly to secondary schools across the country from January 2024. The tour will be seen by over 10,000 pupils in 12 Theatre Nation Partnership areas across England including Doncaster, Leicester, North Devon, Outer East London and South Essex, Peterborough, Rochdale, Salford, Stoke, Sunderland, Wakefield, Wigan and Wolverhampton.
In its 60th year the National Theatre has transferred a record number of shows to the West End, ensuring our work reaches even more audiences. The expansion and reach of the NT around the UK since its foundation in 1963 has resulted in 85 per cent of all secondary schools across the UK accessing the NT Collection, the free streaming platform for schools. Last year over 42,000 children and young people participated in NT Learning activity. The National at 60 is a thriving and vital part of our cultural life.
Kate Varah, Executive Director, National Theatre
Our commitment to developing skills and inspiring a creative workforce for the future has seen more than 60 apprentices training and developing their craft in departments as varied as carpentry and scenic art to IT. We're part of a Government pilot scheme of 'portable' apprentices working flexibly across organisations in collaboration with ATG, White Light and the Royal Opera House. Our network of former apprentices continues to enrich the cultural sector with many going on to work in roles across the industry including English National Opera and Netflix.
As we enter our seventh decade the necessity for creating a sustainable future for theatre is paramount. We are spearheading a new large-scale sustainability initiative, in collaboration with theatres across the industry including the Young Vic, Royal Court and the Kiln. From 2024, it will bring together the theatres' storage of costumes, props and recyclable scenery under one roof at a new site in central London to encourage reuse and reduce carbon impacts. With plans of this scale, we look to a future of exceptional sustainable creativity for the whole sector.