Apprenticeships are a vital way for people to join the workforce, blending real work with college learning.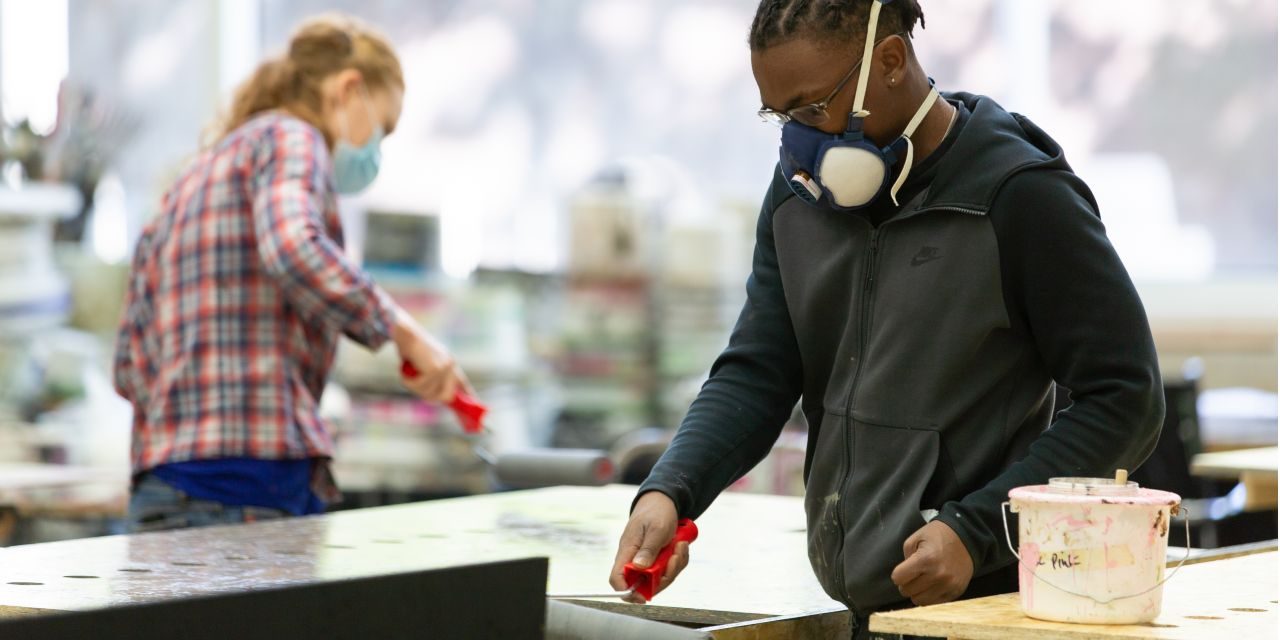 Since 2011 we have hosted over 40 apprentices at the National Theatre. Their roles have been in many different areas of the organisation and have allowed people to join the industry with confidence, knowledge, and valuable experience.
Apprenticeships involve:
Paid work, with college or externally led learning.
A minimum of 12 months full-time contract.
Gaining experience working in your chosen industry.
Our apprentices are often people who say they would not have got into the industry via college or university. The level of our apprenticeships reflects this, as they are mostly suitable for those with GCSEs or A Levels, rather than degrees.
Any  Questions?
If you have any questions,  you can email apprenticeshipenquiries@nationaltheatre.org.uk
All apprenticeships will be advertised on this page when available, including full job descriptions with personal specifications.
If we have a confirmed timeline for recruiting for a specific apprenticeship it will also be advertised here.

Backstage apprenticeships
Our technical and production-based apprentices become skilled and valued members of thire teams. They complete independent projects,  grow their skillset and eventually work on our shows.
A number of our former apprentices continue with us after their apprenticeship, sometimes on a freelance basis.
We have employed apprentices in backstage roles such as:
Creative Venue Technician Apprentice ( lighting, sound & video, and stage crew)
Scenic Artist Apprentice
Scenic Carpenter Apprentice
Scenic Metal Fabricator Apprentice
Props maker Apprentice

Business operations apprenticeships
Many of our apprentices do not work directly on our productions, but instead support vital business operations.
We value these apprentices highly and several have become permanent NT staff members after their apprenticeship has ended, whilst others have gone on to similar roles in other arts organisations.
Business operations apprenticeships have been in roles such as:
IT Support Engineer Apprentice
Facilities Apprentice
Marketing Data Analyst Apprentice
Events Apprentice
"Apprenticeships play an essential role in the ecology of a busy producing theatre. There are many specific craft skills that can only be learnt or passed on in the front line of making ambitious new work with some of the world's leading theatre practitioners.
The benefits to those being taught are only matched by those received by those doing the teaching. Passing on the experience of a 20 or 30 year career is as enlivening as starting that career again. Creating opportunity that might otherwise have been invisible or out of reach has positive impacts that ripple through the whole organisation."
Paul, Production and Technical Director, National Theatre
"Without the scheme I don't think I would be where I am today. A chance was taken with me and I will always remember that.
I put 110% into what I do… such an amazing opportunity that changed my life."
2018 Apprentice
"I can't speak highly enough of this apprenticeship. The NT gave me an opportunity to kick-start a career in a subject I knew very little about on arrival.
Learning on the job was made very easy by the friendly and warm environment that the National Theatre was at the time. Also, the friendships made between the apprentices were very helpful and gave you that extra support. Lots of fun!"
2014 Apprentice
Apprenticeships at the National Theatre are supported by Eggardon Trust, The Schroder Foundation, The Rayne Foundation, The Radcliffe Trust and The Worshipful Company of Framework Knitters.