The Ocean at the End of the Lane on tour
based on the novel by Neil Gaiman, adapted by Joel Horwood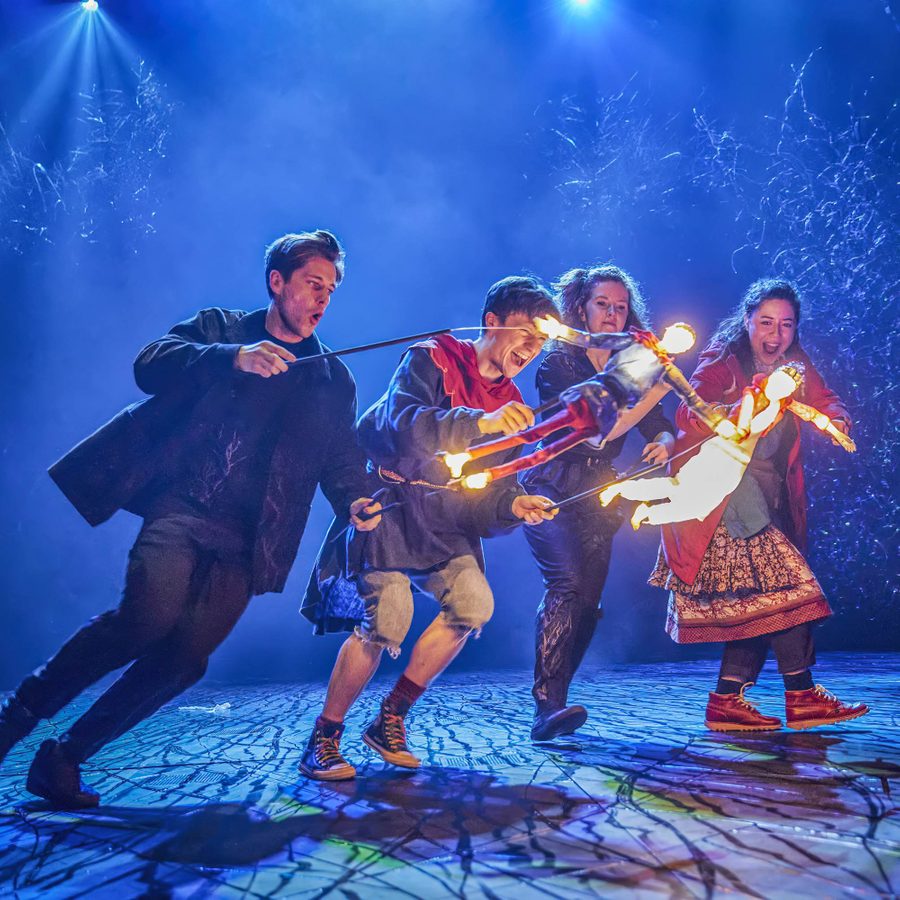 Booking and details
12 December 2022 — 7 October 2023
This show has now ended
From the imagination of Neil Gaiman, best-selling author of Coraline, Good Omens and The Sandman, comes the National Theatre's major new stage adaptation of The Ocean at the End of the Lane.
This thrilling adventure of fantasy, myth and friendship, is a five-star spectacular which blends magic with memory in a tour-de-force of storytelling that takes audiences on an epic journey to a childhood once forgotten and the darkness that lurks at the very edge of it.
Returning to his childhood home, a man finds himself standing beside the pond of the old Sussex farmhouse where he used to play. He's transported to his 12th birthday when his remarkable friend Lettie claimed it wasn't a pond, but an ocean – a place where everything is possible…
Plunged into a magical world, their survival depends on their ability to reckon with ancient forces that threaten to destroy everything around them.
★★★★★
'Spellbinding. Theatre at its best.'
Daily Telegraph
★★★★★
'There's nothing around to beat this thrillingly imaginative show.'
Mail on Sunday
★★★★★
'Theatrical magic. A mesmerising adaptation of Neil Gaiman's hit novel.'
Sunday Times
★★★★★
'Shows like this don't come around very often.'
Time Out
★★★★★
'This knockout production is theatre at its best.'
Independent
★★★★★
'Astonishing. An extraordinary piece of theatre.'
Lancashire Telegraph
★★★★★
'It will seriously blow your mind.'
Manchester Evening News
Suitability
This production contains the following effects; high intensity lighting and strobe, haze and smoke, pyrotechnics, loud sound, and blackouts.

The production contains moments that some people may find frightening, including references to death. For more information, read our
Content warning pdf
 or contact your local theatre.
Supporters
Theatre Nation Partnerships is generously supported by Arts Council England's Strategic Touring Fund and Garfield Weston Foundation.
This learning resource is designed to support students and their teachers in responding to The Ocean at the End of Lane in various ways. The pack includes opportunities to engage with the production for the live production element of GCSE and/or A Level Drama & Theatre. This learning resource also provides information about the production, and ways in which it can inform and inspire devised or scripted work in schools and colleges.
We're committed to making our productions accessible to all. The following Assisted performances are scheduled across the tour of The Ocean at the End of the Lane:
Audio Described Performances
Touch Tours
Signed Performances
Captioned Performances
Relaxed Performances
For further details about each venue and dates and timings for each type of assisted performance, please visit your nearest venue website.
Illustration by Nicolas Delort
Photos of UK & Ireland Tour cast by Brinkhoff/Mögenburg