Our learning activity now reaches every local authority across the UK
Posted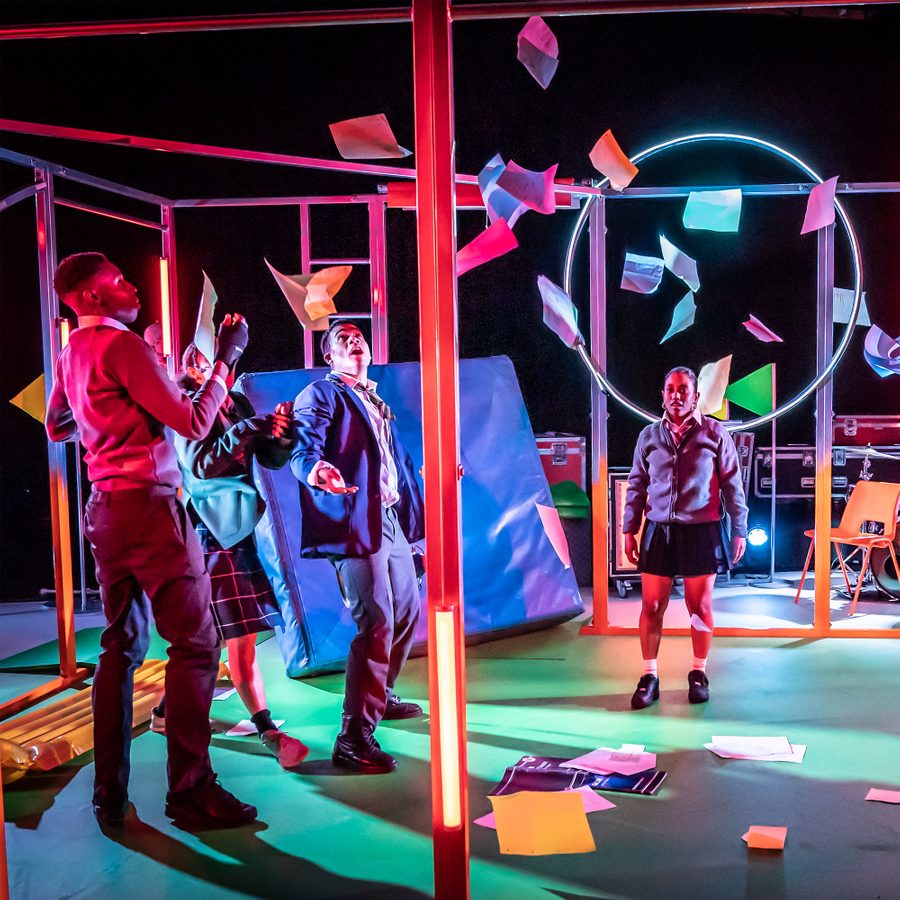 We're thrilled to announce that our learning activity is now present in every local authority across the UK either in-person or digitally.
Over the past year, over 42,000 children and young people participated in our learning activity and our schools programme delivered 10,800 hours of in-person work, with 73% of activity happening outside of London.
In addition, 85% of all UK state secondary schools are now signed up to the National Theatre Collection, allowing schools to stream the best of British Theatre directly into classrooms for free, making it easier to place arts and creativity at the heart of education.
Take a look at the huge wealth of activity kicking off this term, available to teachers and pupils nationwide.
We recognise the impact theatre can have in sparking imagination at a young age, holding it at the heart of the National Theatre's Learning work. We are deeply proud to be able to reach students in every local authority across the UK, providing vital, accessible and easily delivered work through our programmes to help students to strengthen their creativity and develop skills that go beyond the classroom.
Rufus Norris, Director, National Theatre
Digital teaching resources
Ten new titles are now live on the National Theatre Collection, with another ten to be added in February 2024, taking the total number of plays available to state schools to stream for free in the classroom to 70, alongside learning resources.
New shows this term include The Crucible, Much Ado About Nothing, Wuthering Heights and The Book of Dust.
Following a successful pilot with Wolverhampton Central Library and Peterborough Central Library, all 70 titles will also be available to access for free in local public libraries across the UK to library members, making it easier than ever for everyone to access theatre for free, nationwide.
Through a new partnership with the Unicorn Theatre, we are also adding more titles to the National Theatre Collection for Primary Schools:
Anansi the Spider Re-Spun
Greek Myths Unplugged: Jessie and the Jellybeans, Ariadne on the Beach, Narcissus
Philip Pullman's Grimm Tales: Rumpelstiltskin and Little Red Riding Hood
The National Theatre Collection for Primary Schools forms part of our Let's Play programme, providing teaching resources and training to all UK state primary schools for free.
This term Let's Play is running professional training (CPD) for teachers, on creating an outstanding piece of theatre in your school, Storytelling in the Primary Classroom, and Creating an Immersive Classroom.

Our 2024 Student Conference will take place on 22 January 2024 in association with Gecko Theatre, exploring their upcoming production of Ķīn.
The conference will include interactive workshops with the Gecko Theatre team, exploring their devising methodology and creative process. Over 600 students will watch a school's performance of Kin with an exclusive post show Q&A with Artistic Director Amit Lahav.
Following previous Student Conferences, 78% of students felt more confident answering questions in their Drama exam as a result of attending.
This year's Student Conference has been designed to support students with the live theatre review component of the GCSE and A-Level specifications, with a masterclass from theatre critic Lyn Gardner, as she imparts her knowledge and experience with the students on crafting effective reviews and the process behind reviewing shows.

We will be hosting our annual Drama Teacher Conference on 15 and 16 February 2024, offering a chance for drama teachers to learn from industry professionals inspiring, informing and upskilling their classroom practice.
Workshops and masterclasses will be hosted by theatre directors Katie Mitchell and Ian Rickson, as well as theatre companies Gecko Theatre, Pilot Theatre, and Quirky Bird, exploring topics including devising, physical theatre, live multimedia practice, exploration of popular set texts and inclusive theatre practice.
Over the two days, the conference will offer teachers the chance to take part in workshops, network with other drama teachers and watch one of our  productions at the South Bank.

Free theatre-making workshops for young people
We are also hosting three free theatre-making workshops for those aged 16-25 later this year.
These In Focus workshops delve into how a show is created, led by members of our creative or production teams. The workshops will explore upcoming productions of The Confessions, The House of Bernarda Alba and The Witches, and include a free ticket to see the production.

We're continuing to welcome young people through our doors to take part in in-depth technical theatre training for future careers.
At the South Bank, Young Technicians aged 14-18 explore our backstage and off-stage spaces, taking part in practical workshops from leading professionals and learning about the variety of roles involved in theatre. Whilst our introduction to Stage Management course for 16-21 year olds helps participants to develop their skills as a stage manager.
Our Young Technicians programme will also be running in Nottingham, Greater Manchester and Plymouth, with applications opening in October.

Inspiring creativity and boosting skills
Our engagement with schools, teachers and young people is a key part of our mission to support the next generation of theatre makers and creators across the UK.
We strive to inspire creativity, fire imaginations and boost skills for the future workforce of the sector and to build a more creative nation.