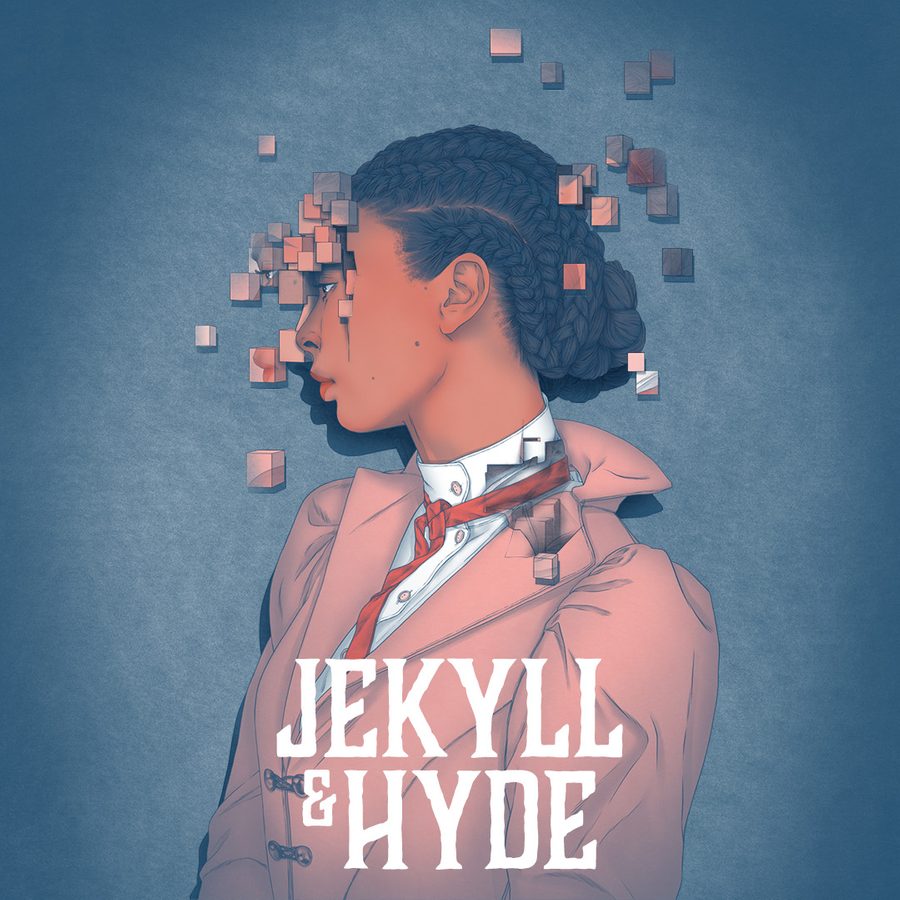 After the success of the Jekyll & Hyde schools tour in 2022, we are delighted to be bringing back Evan Placey's reimagined version of Robert Louis Stevenson's classic tale, directed by Kirsty Housley.
The production will tour to partner secondary schools from January 2024. For the first time, we are offering two public performances at The Lowry, Salford on 12 and 13 January 2024 and tickets are on sale now.
In a mash up of Victorian England and the modern day, the story explores how the repression of female voices was as prevalent in the 19th century as it is today. Centring around two new protagonists – Hattie, Jekyll's widow, and Florence, a young blogger in the 21st century – these new narratives confront the power the internet holds to unleash our own inner Hyde.
The Jekyll & Hyde 2024 schools tour will be seen by over 10,000 pupils in secondary schools across 12 Theatre Nation Partnership areas in England, to grow and sustain new audiences for live theatre and create more opportunities to engage in the arts.
For the first time this year, the tour is visiting a number of theatres to strengthen connections between schools and their local venues and reach as wide an audience as possible.
Suitability
For years 13+
Please be aware that this production explores themes of violence, sexual abuse, misogyny, strong language and a reference to suicide. There are visual depictions of stabbing, strangling, injections, a gun and the use of fake blood. There are strobe lighting effects.
Look to the National Theatre's schools tour for Levelling Up in action.
The Times
The cherry on the cake has always been the National Theatre for us because it's the best version of everything. Its the best thing that comes to the school, without exception.
Principal Michael Riley, Ormiston Shelfield Community Academy (Walsall, West Midlands)
Theatre should belong to everybody and the work that the National Theatre does should belong to everybody. I feel like it does with this.
Emma Tully, Drama Teacher, Oxclose Community Academy (Washington, Sunderland)
Angela Jones

Angela Jones
Jekyll / Hyde

Angela Jones
Angela is a recent graduate of LAMDA, and the Spotlight Prize Winner for 2022.
Ellie Gallimore

Ellie Gallimore
DCI Williams / Josephine

Ellie Gallimore
Ellie Gallimore trained at East 15 Acting School. After graduating in 2022, she represented her drama school as a finalist for the Spotlight Prize Awards.
Andy Sellers


Andy Sellers
Andy graduated from The Royal Central School of Speech and Drama in 2019.

Philip Bosworth
Judge Richard Enfield / Officer Rose / Doctor Lanyon

Philip Bosworth
Lucy Thorburn
Lucy Thorburn
Theatre: Beryl Waters in Brief Encounter (regional tour, Wiltshire Creative) "Swing" in Jack and the Beanstalk (The Newbury Corn Exchange), Pat in Kinky Boots (The New Wolsey and Queens Theatre) and Dancer in SMOOSH! (Paraorchestra).

Wesley Bozonga
Dr Maxwell / Tommy / Paper Boy / Officer Ray

Wesley Bozonga
Sophie Atherton

Sophie Atherton
Sally / Priest

Sophie Atherton
Sophie Atherton trained at Royal Welsh College of Music and Drama.
Scott Howland

Scott Howland
DCI Renford

Scott Howland
Originally from the North East, Scott Howland is a writer and actor with an MA in Text and Performance from RADA/Birkbeck. He is also the Artistic Director of Nothing to Perform (N2P), a London based theatre/film production company.
The Mohn Westlake Foundation supports nationwide Learning programmes for young people.
Schools touring is supported by The Mohn Westlake Foundation, The Constance Travis Charitable Trust, The Ingram Trust, The Dorset Foundation – in memory of Harry M Weinrebe, Susan Miller and Byron Grote, and The Allan and Nesta Ferguson Charitable Trust.
Secondary Schools Touring is supported by Delta Air Lines and Shears Foundation.
Nationwide learning is supported by Buffini Chao Foundation, Garfield Weston Foundation, Clore Duffield Foundation, Tim and Sarah Bunting, Behrens Foundation, Cleopatra Trust and Milton Grundy Foundation.
Find out more about supporting our work