a new play by Tim Price
a co-production with Wales Millennium Centre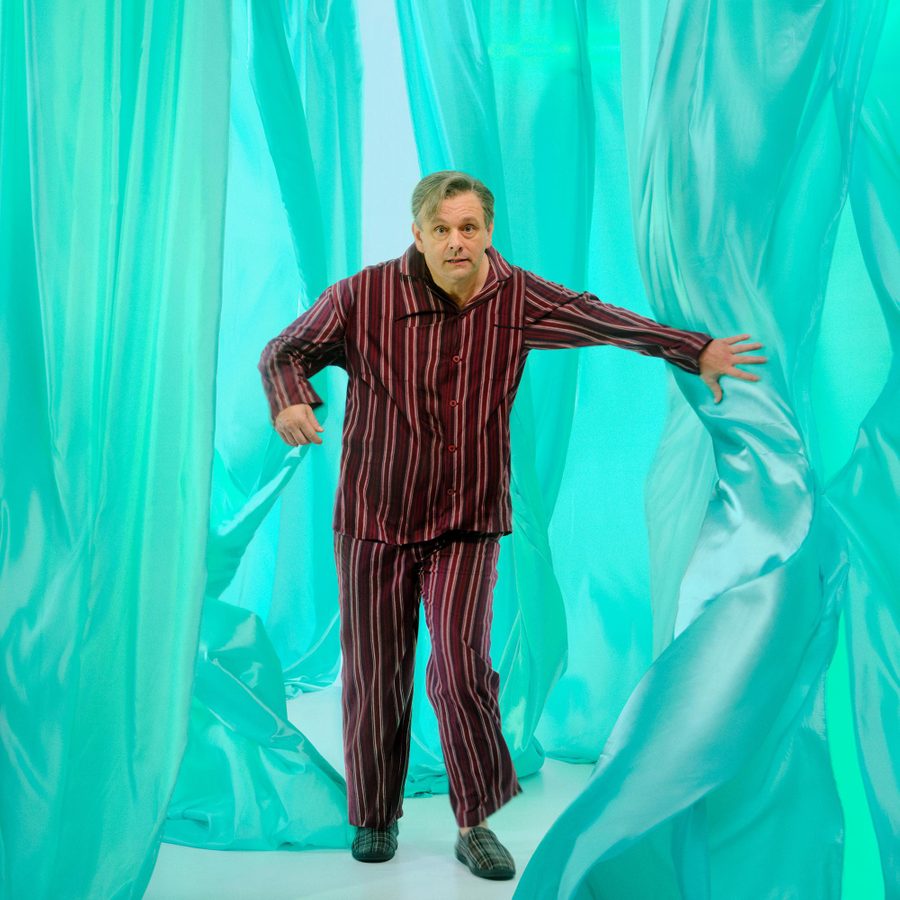 Booking and details
Tue and Thu selected performances at 6.30pm
One man's dream of the NHS
From campaigning at the coalfield to leading the battle to create the NHS, Aneurin 'Nye' Bevan is often referred to as the politician with greatest influence on our country without ever being Prime Minister.
Confronted with death, Nye's deepest memories lead him on a mind-bending journey back through his life; from childhood to mining underground, Parliament and fights with Churchill in an epic Welsh fantasia.
Michael Sheen (Under Milk Wood) is Nye Bevan in this surreal and spectacular journey through the life and legacy of the man who transformed Britain's welfare state. It's written by Tim Price (Teh Internet is Serious Business) and directed by Rufus Norris (Small Island).
Supporters
This production is supported by the Huo Family Foundation.
The commissioning of this play was generously supported by the Sir Peter Shaffer Charitable Foundation.
This play is a recipient of an Edgerton Foundation New Plays Award.


Remy Beasley


Roger Evans

Jon Furlong
Herbert Morrison MP
Jon Furlong

Stephanie Jacob
Clement Atlee

Stephanie Jacob

Kezrena James
Nurse Ellie / Arianwen

Kezrena James
Tony Jayawardena

Tony Jayawardena
Doctor Dain / Winston Churchill

Tony Jayawardena
For the National: East Is East, England People Very Nice, All's Well That Ends Well and London Assurance

Rebecca Killick
Lucy Prichard

Rebecca Killick

Rhodri Meilir
David Bevan

Rhodri Meilir


Michael Sheen


Sharon Small
Lighting Designer
Paule Constable
Paule Constable
Paule Constable
Paule Constable is an Associate at the National Theatre and is a Royal Designer for Industry.
Co-Choreographer
Steven Hoggett
Steven Hoggett
Steven Hoggett
Steven Hoggett was co-artistic director and founding member of Frantic Assembly Theatre Company, and with Scott Graham co-wrote The Frantic Assembly Book of Devising Theatre (Routledge).
Co-Choreographer
Jess Williams
Jess Williams
Jess Williams
Jessica Williams trained at London Contemporary Dance School (BA) and Trinity Laban Conservatoire (Transitions Dance Company).
Sound Designer
Donato Wharton
Donato Wharton
Donato Wharton
Donato Wharton is a musician and sound designer.
Casting Director
Alastair Coomer CDG
Alastair Coomer CDG
Alastair Coomer CDG
Alastair Coomer is the Head of Casting at the National Theatre. He was previously the Casting Director at the Donmar Warehouse.
Company Voice Work
Cathleen McCarron
Cathleen McCarron
Cathleen McCarron
Cathleen McCarron is Head of Voice at the National Theatre.
Company Voice Work
Tamsin Newlands
Tamsin Newlands
Tamsin Newlands
Tamsin Newlands is an actor and voice and dialect coach.
Monday – Thursday evenings and all matinees:
£20, £36, £46, £66, £86, £96
Friday & Saturday evenings:
£20, £39, £49, £69, £89, £99
Previews 24 February – 1 March:
£20, £30, £36, £46, £56, £76
For concessions and discounts, see Ways to save
Please note the 6.30pm start time on the following performances: Thu 28 Mar, Thu 4 Apr, Tue 9 Apr and Tue 30 Apr.
Visit our Ticketing FAQs for information on how to book, ticket exchanges and more.
Prices may change according to demand
Please note: Lee Mengo will perform the role of Nye Bevan at these performances: Wed 27 March 2.15pm, Mon 1 April 7.30pm, Tue 2 April 7.30pm & Wed 3 April 2.15pm
The National Theatre provides a number of British Sign Language interpreted performances throughout the year.
Audio description is a live commentary interspersed with the actors' dialogue. This is relayed via a headset.
Technical changes are made to the production, such as adjustments to light and sound effects, for those with sensory sensitivities. These performances also allow for noise and movement in the auditorium, a chill-out space for patrons who may need time away from the performance, and re-entry when needed.
The signer for the BSL performance will be announced closer to the performance date.
Audio-described performances are preceded by a Touch Tour, 90 minutes before the performance start time. Call the Access line on 020 7452 3961 to book Touch Tours.
We have an allocation of tickets held for members of our Access scheme and if any of the Access performances above are shown as "Sold Out", tickets may still be available: Please log in to your account to access them, or call Box Office on 020 7452 3961.
Are planned to be available for performances of Nye from 7.30pm, Thursday 14 March.
Photography (Michael Sheen) by Rachel Louise Brown.
Art direction and design by National Theatre Graphic Design Studio.