Immersive Storytelling Studio
The Immersive Storytelling Studio is where the National Theatre works with artists and emerging technologies to develop new dramatic work and experiences.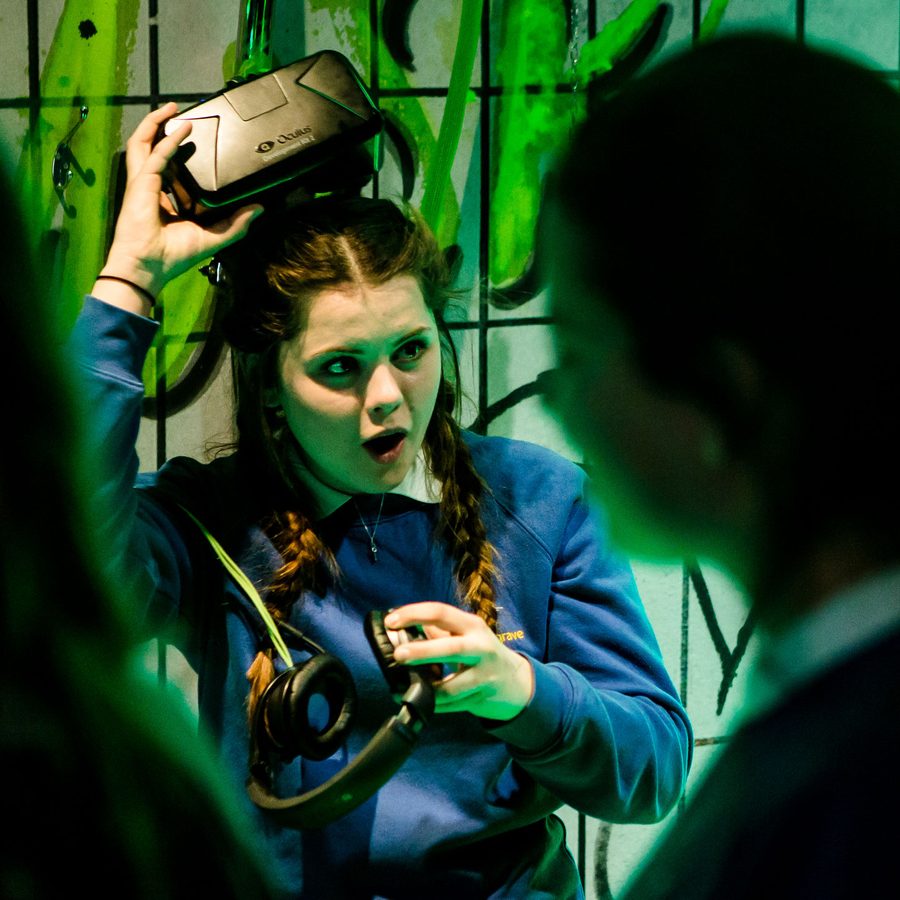 Our Immersive Storytelling Studio examines how Virtual, Mixed and Augmented Reality along with other emerging technologies can widen and enhance the NT's remit to be a pioneer of dramatic storytelling and to enable an audience to stand in the shoes of another.
The Studio has had its portfolio of projects shown at the Venice, Sundance, Tribeca and London Film Festivals, IDFA, National Theatre, The Young Vic, MoMA and TATE Modern.
News
Magical and deeply affecting
Amma written by Kamal Kaan and directed by Abdul Shayek at Tara Theatre, supported by the National Theatre Immersive Storytelling Studio.
A digital development programme in partnership with our studio looking at the concept of Home and what it means for different people.
Augmented Reality Theater Takes a Bow. In Your Kitchen.

Museum of Austerity is at HOME Theatre Manchester from 8 – 11 November 2023
Museum of Austerity is a mixed reality exhibition that preserves memories of public and private events from the austerity era.
Combining verbal testimony, original music, and volumetric capture audiences are invited to contemplate, close-up, what happens when state safety nets fail.
These stories grab you by the throat and don't let you go.
Cultureel Pers Bureau
After previewing at the 2021 London Film Festival, Museum of Austerity was shown at the 2021 IDFA Festival, where it won the IDFA DocLab Immersive Non-Fiction award.
Co-produced by English Touring Theatre, the National Theatre Storytelling Studio and Trial & Error, this powerful installation combines the skills of theatre/XR director Sacha Wares with the in-depth knowledge of John Pring, editor of Disability News Service.
Full details of creatives, cast, participant families and access information can be found on the English Touring Theatre website.
Originally presented in person at the National Theatre in 2019, Sundance Film Festival and TATE Modern in 2020, All Kinds of Limbo is a unique musical performance developed alongside the NT's 2019 production of Andrea Levy's award-winning novel Small Island.
Lyricist and vocalist Nubiya Brandon, musician Raffy Bushman and the Nu Shape Orchestra take the audience on a musical journey inspired by the influence of Caribbean culture on the UK's music scene, with Nubiya telling her own story of a life in limbo across the genres of reggae, grime, classical and calypso.
Immersive technologies, the ceremony of live performance, and the craft of theatrical staging transport audiences into the heart of the performance space.
In 2022 All Kinds of Limbo was adapted into an XR (extended reality) broadcast framework allowing audiences worldwide to experience the communal musical performance simultaneously as either VR, AR or a video game format.
With the exception of Antarctica, it has now been seen on every continent around the world.
Draw Me Close blurs the worlds of live performance, virtual reality and animation to create a vivid memoir about the relationship between a mother and her son charting twenty-five years of love, learning and loss .
Weaving theatrical storytelling with new forms of technology, the individual immersive experience allows the audience member to take the part of the protagonist, Jordan, inside a live, animated world.
The experience by award-winning playwright and filmmaker Jordan Tannahill is a co-production between the National Theatre's Immersive Storytelling Studio the National Film Board of Canada.
Mind officially blown. Unlike any experience I've ever had.
Huffington Post
An emotional and technologically brilliant experience that takes the concept of immersion into new heights.
Mashable
This collapsing of art forms … is deeply affective, and thus powerful.
Time
To date Draw Me Close has been shown at Tribeca Film Festival, Venice Film Festival, The Young Vic, London and Soulpepper, Toronto.