Hackney Empire's Young Producers
Youth-fuelled talent, unbelievable energy and pure vibes.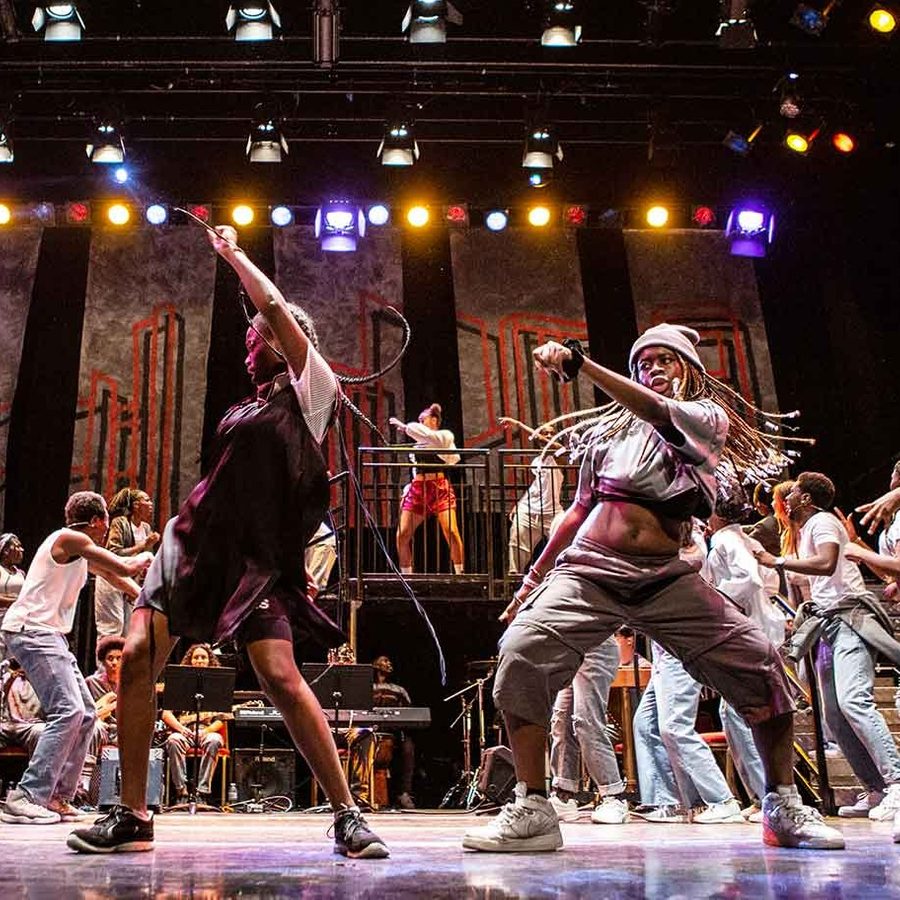 Curated by the next generation of young creatives aged 14-21, the Young Producers are serving the hottest London talent blowing up right now.
Hosted by Scully (No Signal Radio), expect a weekend of dance crews, rap battles, big vocals, steel pans, grime, 90s bangers, plus some of the latest crazes tearing up TikTok.
River Stage: Friday 30 June – Sunday 2 July
Hosted by:


Event times:
Friday 30 June: 6:30pm – 11pm
Saturday 1 July: midday – 11pm
Sunday 2July: midday – 6pm
Find us:
River Stage, National Theatre, Upper Ground, SE1 9PX
Get directions

Scully
Host
Creator, curator and critic, host Scully (No Signal Radio) returns to helm another River Stage ride. Expect impromptu dance breaks, karaoke and the most cutting edge sounds from across the city.

Skadeuces
6:30pm – 6:40pm
Fresh from winning Hackney Empire's 'Alter Ego 2023' talent competition, street dance crew Skadeuces, founded by Khalif-Shakeil Edwards, return to blow up the River Stage dancefloor with the sickest flips, shuffles and twists to get the weekend's party started.
Atypical with Attitude
6:45pm – 6:55pm
Atypical With Attitude returns to River Stage on Friday night, breaking down barriers, challenging perceptions and celebrating neurodiversity through the power of dance.

Boy Blue
7:00pm – 7:30pm
Award-winning UK hip-hop dance company Boy Blue returns to River Stage with their most elite crews for an explosive set of street dance to kick the weekend off right.
Tracks On Tap
8:00pm – 9:00pm
Tracks on Tap were one of last year's runaway successes; this year they're back with uplifting vibes for a very special Friday night slot. Their grassroots community platforms emerging talent from all over the UK, landing them mentions in GQ Magazine, Kiss FM, plus collabs with SBTV and BL@CKBOX, to name a few.

DJ Mimi Rich
9:00pm – 10:00pm
Mimi Rich makes her River Stage DJ debut – expect a high energy set spanning dancehall, hip-hop, R&B, Afrobeats and Amapiano, plus some classics with unexpected twists. Friday night is gonna be lit.

DJ Pebz
10:00pm – 10:45pm
East London DJ Pebz has soundtracked some of the Young Producers biggest events over the last two years. She joins them at River Stage with the party vibes to get you on your feet once the sun's gone down.

Metronomes Steel Orchestra
12:00 – 12:30pm
Hailing from Ladbroke Grove with a rich history, steel-band icons Metronomes make their debut performance at River Stage. Having contributed to the artform for nearly 50 years, we are lucky enough to have them soundtrack our Saturday afternoon with their steel-pans.

The PappyShow
12:50pm – 1:45pm
The critically acclaimed PappyShow debuts at River Stage with an interactive movement workshop – get involved as they create moments of radical joy, share stories and platform marginalised identities.
Pure Vibez: Emerging Artists
2:00pm – 3:00pm
This Hackney showcase platforms emerging singers, rappers, poets and more, and is curated and produced by local young people. Expect pure energy, pure talent and pure vibez. Always.

Young Producers Games
3:00pm – 3:20pm
The Young Producers give an improvised US rap battle their own London twist – and they want you to be part of it. Expect comedic lyricism and dance battles – plus prizes to be won.

Metronomes Steel Orchestra
3:40pm – 4:10pm
Hailing from Ladbroke Grove with a rich history, steel-band icons Metronomes make their debut performance at River Stage. Having contributed to the artform for nearly 50 years, we are lucky enough to have them soundtrack our Saturday afternoon with their steel-pans.

Survivor - A Young Producers Original
4:30pm – 4:40pm
In collaboration with record-breaking beatboxer, DJ and world-looping champ SK Shlomo, the Young Producers created 'Survivor' – an original multi-artform experience exploring topics of identity, sexuality and growing up. The Young Producers will perform this piece live for the very first time, with MC Zani.

Alter Ego 2023
4:50pm – 5:50pm
Elite Alter Ego alumni from Hackney Empire's sold out main house take on River Stage. Alter Ego is the ultimate East London talent show and cornerstone to Empire's Creative Futures Programme. Previous winners include dance crews Skadeuces, LMA JIJ and our Saturday night headliner and Wretch 32 collaborator Kali Claire.

Pure Vibez Headliner: Maaz
6:15pm – 6:30pm
Returning to River Stage, 22-year-old rapper Maaz – championed by taste-makers including GRM and LinkUP TV – will be delivering his top tier lyricism for a headline slot on Saturday. Maaz places quality at the forefront, and has always used his writing to evoke change in the deprived community around him.

Pure Vibez Headliner: BXGGZ
6:35pm – 6:50pm
Influenced by old school hip-hop, drill and Afro-swing, multi-genre artist and steel pan player BXGGZ will be ramping up the energy at River Stage – expect melodic flows, bouncy rhythms and a whole vibe as the sun goes down.

Pure Vibez Headliner: Aysia Wards
6:55pm – 7:10pm
Hackney siren Aysia Wards returns to River Stage with her unfiltered ambient songs of life and love underpinned by darker trap components.

Kali Claire
7:20pm – 7:35pm
Hackney-born LA-dwelling singer, songwriter and producer Kali Claire is a very special headliner for Saturday night. Nurtured by Hackney Empire's Creative Futures Programmes as a teen, Kali has co-written tracks for Alicia Keys, worked with the likes of Swag Did It, Not3s, and Mabel. A legit star on the rise.

Pat
7:45pm – 8:00pm
Polish-born rapper Pat debuts his introspective yet playful bars and flows at River Stage on Saturday night, with roots in hip-hop, pop, indie and soul, he's been championed by the likes of Notion Magazine and is one to watch.

Girls of Grime
8:15pm – 10:45pm
After a stellar takeover, Girls of Grime are back for the second year to bring the energy that will fuel your Saturday night, provided by some incredible female MC's, DJ's and artists.

Young Producers Sing Along
1:00pm – 1:15pm
Start your Sunday with a sing-along to some of the greatest songs, celebrating Pride weekend.

East London Theatre School: Glee Club
1:15pm – 1:30pm
The East London Theatre School takes centre stage, shining a light on the unheard stories and experiences of the area, told by young, raw talent with the power to transform theatre as you know it.

Pure Vibez Poets
1:45pm – 2:30pm
Curated and programmed by the Young Producers, come and hear some of the best spoken word poetry setting the circuit alight right now. Performances provided by Ade Oyejobi, Charlene The Poet and Dillon Kalyabe & a special headliner.

BAC Beatbox
2:45pm – 3:45pm
Battersea Arts Centre's Beatbox Academy brings their crew of singers, rappers, spoken-word artists and beatboxers to fire up our Sunday session. We'll be calling on you, our audience members, to uncover the hidden talents you never knew you had.

Young Producers: Dance Battle
4:00pm – 4:10pm
Come take the stage and show off your skills as part of this epic dance battle with a chance to win a very special prize.

HE Creative Futures Showcase
4:10pm – 5:00pm
The Young Producers give you a front row seat to the most epic songs, scenes and dances of Hackney Empire's Artist Development Programme, which sees 45 young people create an original musical in just two weeks every summer.

KERB Presents: The Table
KERB's open-air food and drink market returns for summer, with London's longest banqueting table and a host of seasonal street food specials.
KERB Presents: The Table