North Kensington Takeover Day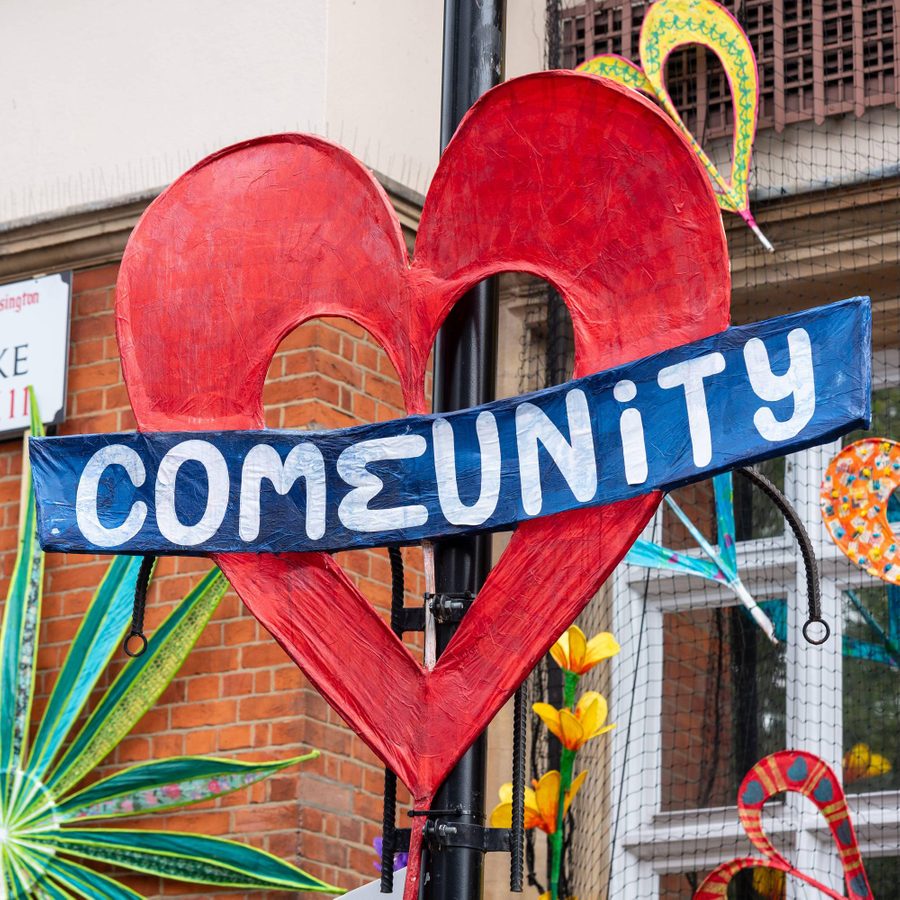 Join us for a free afternoon of music, theatre, crafts, workshops, poetry, talks and dance from the North Kensington community. Bring your friends and families, old and young, all are welcome.
As part of our multi-year project in North Kensington, partners and artists from across the borough, including Youth Action Alliance, Caravan Theatre and the Community Team at The Playground Theatre, will take over our foyer spaces in a celebration for all ages.
Sunday 8 October
12.30 – 6pm
Location: National Theatre, South Bank
Travel and access information is available in Your visit
Free public event, open to all

#24Hearts
Learn the stages of constructing with willow, and design and decorate a heart to take away with you.
Drop into the Lyttelton theatre Foyer throughout the afternoon and be inspired by our community of makers and our creations over the years.
#24Hearts was started as a heartfelt and instinctive response to the tragedy at Grenfell Tower. The original idea was to create 24 hearts for the 24 floors in the tower, but the idea spread and now our widely diverse North Kensington community continues to create uniquely uplifting public art installations.

ACAVA
Join ACAVA's creative team and artist Camilla Brendon to build a fun collaborative installation using re-purposed materials from the National Theatre's production department.
Drop into the Lyttelton theatre Foyer throughout the afternoon to be inspired by the river Thames and the city landscape and create!
ACAVA is a leading arts education charity who've been providing affordable creative workspaces and pioneering community arts programmes for 50 years, delivering socially engaged arts programmes that bring artists and communities together.

Caravan Theatre
Come and enjoy the very best of theatre in a retro 1950's Caravan Theatre!
Performances  take place throughout the afternoon.
We are bringing three unique stories from our home in North Kensington. Each 10 minute play is a celebration of our very special community.
Spirit of Carnival by Emma Dennis-Edwards, starring Cherrelle Skeete
A Brief History of US by Chantelle Dusette Starring Louie Keen and Judith Jacob
September Skies by Jessica Butcher starring Mae Munuo
All plays have been directed by Yasmeen Arden, with sound design for Spirit of Carnival by Nicola Chang and produced by Jamie Arden at Small Truth Theatre.

Kamitan Arts
Princess Emmanuelle will be sharing a taste of the bi-lingual 'Word, Sound 'n Power', including excerpt readings from the Poetry 4 Grenfell: Voices from da Grove & Latimer book.
Performance at 4pm.
Kamitan Arts CIC is a small performing arts and heritage non-profit based in North Kensington, who have been running creative arts, heritage and healing projects in the RBKC community and beyond since the early 2000's, raising awareness of humanitarian issues through the arts.
One of the most transformative and supportive projects since the Grenfell fire in their immediate community, where many of their artists and directors reside and were raised in, is the 'Poetry 4 Grenfell' multi-lingual book, award-winning short film and project.
Kids on the Green
Entertainment is guaranteed by a selection of KOTG's finest young all star DJs and vocalists. Each performer has honed their craft within the KOTG HQ multi media department.
Performing throughout the afternoon, with a finale at 5.30pm.
Through a unique fusion of play, arts, complimentary therapy and creative media, KOTG gives young people in North Kensington the opportunity to thrive, in a family style, peer led environment that nurtures and mentors, with expert tuition from a team of dedicated and passionate creative practitioners.
KOTG provides a fully-fledged music studio , podcast room , DJ training suite , radio station and visual editing room. They also offer circus, parkour, cycling and equine therapy, where funding permits, and foundation and level 1 in a customised Arts award and accredited level.

Our Power Hub
Take part in a Paint & Create workshop featuring Fathima Hakkim: a visionary artist, published illustrator under Harper Collins, and a captivating TED Talks facilitator.
Drop into the Lyttelton theatre Foyer throughout the afternoon and under her expert guidance, you can unlock your inner artist and embark on an unforgettable creative journey.
Through partnerships with esteemed organisations and healthcare professionals, Our Power Hub CIC provides vital community support services for young people and adults in Kensington and Chelsea and neighbouring London boroughs. Our diverse programmes include technology initiatives, sports, job placements, mentoring, arts, music, STEM and more.

The Community Team at The Playground Theatre
Watch performances by North Kensington artists and performances, including spoken word artists Omar and DeAndre, The Portobello Community Choir, debut poet Stan Moorcroft, the outstanding Intermission Youth Theatre, who support and nurture young people, and Alvla, an up-and-coming star from the local area.
Performances from 4.45pm – 5.30pm.
We Start deliver local artistic workshops and events, across all disciplines, using trained creative industry professionals to empower local residents to tell their own, new, stories, with partners including the National Theatre, Royal Court and Saatchi Gallery.
Renegade Theatre
Presenting two films, The Renegade Crew, a filmed recording of a site specific performance in the adventure playground at Venture Centre (before its imminent demolition), and Selwyn and Simone, a short film about love and grief starring North Kensington people and places.
Screenings take place from 12.30pm to 2.30pm.
Renegade Theatre CIC creates quality theatre, arts and heritage projects for, with and about the North Kensington community. We work with kids and adults, as well as professional actors, to make unique films, theatre and documentaries relevant to our community's lives.

Youth Action Alliance
Dance Energy presents two talented groups – Superlit and St Charles Dance Company to showcase their talent.
Performances at 2.30pm and 3.15pm.
Youth Action Alliance supports the personal and social development of young people living in Kensington & Chelsea, enabling them to increase their resilience and skills in the present, and promote their ambitions for the future.
Dance Energy is a dance platform connecting the community with leading dance industry professionals.
The History of Social Activism in North Kensington

An exhibition curated by members of the North Kensington community, showcasing photographs, paintings and news clippings, exploring campaigns, protests and marches around social injustice and activism in North Kensington.
A programme of talks accompanies the exhibition, delving further into the history of North Kensington and what is happening in the area today.
Photo credit: PA/T Laurent Belson
Social activism in North Kensington talks
Location: The Wolfson Gallery (between floors 1 & 2 in the Olivier Theatre side of the National Theatre).
The History of Social Activism in North Kensington
Starts at 1.30pm – duration 45mins
Join eclectic Afrikan-centric poet and activist Isis Amlak, activist and Westway Co-opt trustee at Westway Trust, Jamila Bolton-Gordon, and sociologist and cultural activist, Colin Prescod – as they come together to provide a unique collective insight into history of community action in North Kensington.
Social Activism in North Kensington – Where are we now?
Starts at 3.30pm – duration 45mins
Hear from artist and maker, Rasha El-Sady, multidisciplinary community artist, designer and educator, Toby Laurent Belson, and artist, researcher and curator Dhelia Snoussi, as they explore the realities and challenges of community arts and activism, and how creativity and learning is a central theme to the activism of North Kensington.
Masthead photography by Avpics. Art by Sophie Lodge.