The Makers: Portraits from Backstage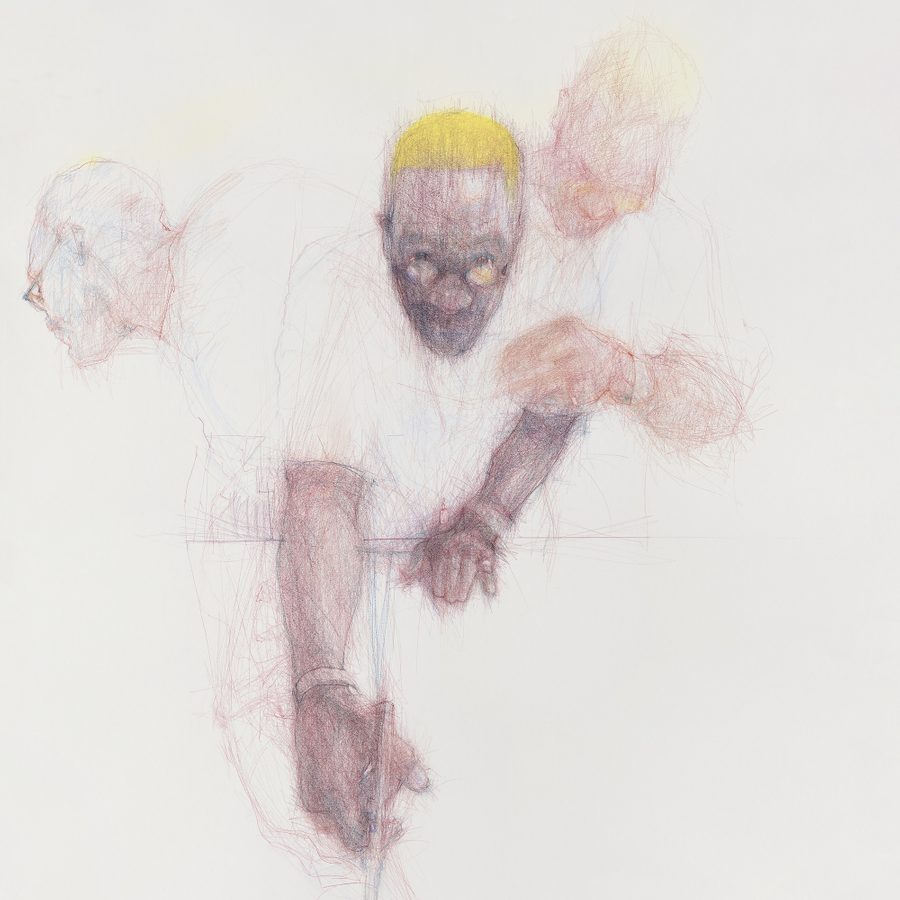 A love letter to the dynamic creative forces behind the scenes at the National Theatre.
Created by our first artist in residence, Curtis Holder, these intimate, multi-layered pencil portraits capture the expertise of the theatre-makers who work here.
Holder has explored every corner of the vast backstage areas selecting people to be part of the exhibition. His subjects range from wigs, hair and make-up assistants, to prop and puppet makers, deputy ladies cutter, costume workroom trainees, technicians, and stage door supervisors.
Normally it's their work that captivates audiences, but this exhibition puts them centre-stage and celebrates the people behind the craft.
Visit the exhibition
Where: Lyttelton Lounge (National Theatre foyer).
When: Until 4 November.
Price: Free. No booking required.
Open: Any time during building opening hours.
About the Artist
Curtis Holder (born Leicester, 1968) is a London-based artist working in graphite and coloured pencils on paper. He studied at  Kingston University and Central Saint Martins, London.
Holder's large-scale multilayered pencil portraits are dynamically tender, emerging in a wayward series of febrile lines to reveal his subjects' form, movement and emotional intent.
In 2020 he won Sky Arts Portrait Artist of the Year, judged by this exhibition's curator, Kate Bryan. Holder has exhibited widely in the UK and in Paris. His work is held in public collections including the Birmingham Museum and Art Gallery and Soho House.
Visit curtisholder.co.uk for more information.
About the curator
Kate Bryan is a curator, arts broadcaster, and Global Director of Art for Soho House.
She has published two books, The Art of Love (2019) and Bright Stars (2021). She has written and presented television programmes for BBC, Sky Arts, and Sky Arte Italia.
She is also a judge for Sky Arts Portrait Artist of the Year and Landscape Artist of The Year. In 2014, she won the Arts category in the Women of the Future Awards and is now a mentor for young artists from underrepresented backgrounds.

The final portrait: live-draw with Curtis Holder and Clint Dyer
Join Curtis Holder as he live-draws the final portrait for this exhibition.
Holder will draw Clint Dyer, while Kate Bryan chats to Dyer about his work.
Bring your sketchbook to draw-along or just listen to the conversation and observe Curtis Holder as he begins the creation of the final exhibition piece.
Drawing materials and paper will be provided by Derwent for those who wish to participate.
Where: Lyttelton Lounge
When: Saturday 28 January, 10.30am–12.30pm.
Price: Free. No booking required.

Children's self-portrait workshop
Budding young artists can drop-in to our half-term self-portrait workshop led by Curtis Holder.
Materials will be provided, there will be separate tables for under 5s/5+.
This workshop is aimed at children (under-16s), and children must be supervised at all times.
Where: Lyttelton Lounge
When: Saturday 11 February, 10.30am–12.30pm.
Price: Free. No booking required.

Self-portrait workshop with Curtis Holder and Kate Bryan
Join us for an afternoon of drawing and conversation with Kate Bryan and Curtis Holder, with some surprise guest portrait artists. You'll be guided through creating a self-portrait, receiving advice and feedback from our artists throughout.
The ticket price includes a glass of house wine or a soft drink, redeemable during the event.
Some materials and paper will be provided by Derwent, or you are welcome to bring your own.
Where: Lyttelton Lounge
When: Saturday 15 April, 2pm–6pm.
Price: £10 (Includes drink).