The National Theatre's Drama Teacher Conference - 15 & 16 February 2024
Posted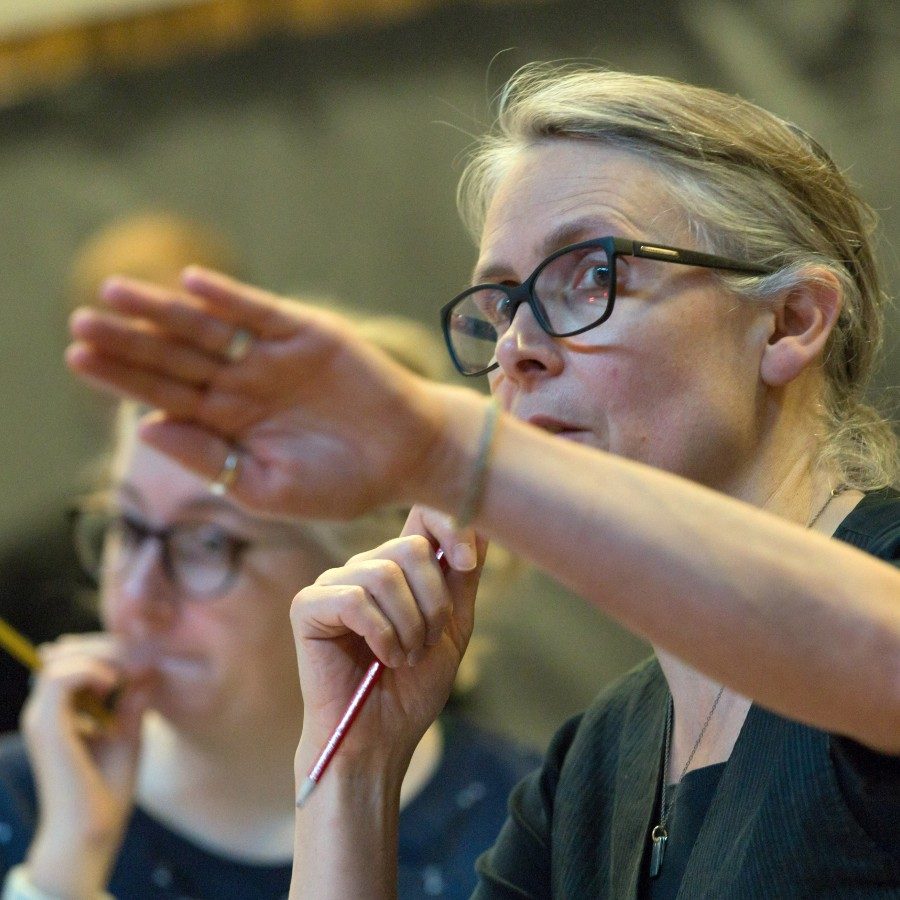 Calling all secondary school drama teachers – applications for our Drama Teacher Conference are open!
The 2024 conference is taking place on Thursday 15 February and Friday 16 February 2024 at the National Theatre, South Bank.
Each year, approximately 150 drama teachers gather to celebrate the joy of theatre and re-ignite the passion for their craft. The two-day conference provides an array of workshops for teachers to take part in, led by world class artists from the theatre industry.
We are excited to announce that the 2024 conference will include sessions led by Katie Mitchell, Gecko Theatre, Ian Rickson, Pilot Theatre and Quirky Bird Theatre, with more artists to be announced soon.
Workshops will cover a variety of themes from inclusive theatre practice to technical production, as well as popular set texts DNA and Noughts & Crosses. As well as all this, every conference ticket includes a ticket to a National Theatre show to enjoy on one of the evenings.

Drama Teacher Conference, 2023
I can't wait to return to the Drama Teacher Conference this year. I came away from the weekend brimming with new ideas, a bag full of new and exciting resources as well as building upon a network of colleagues and industry professionals around the world.
The impact that this weekend had was phenomenal and it really allowed me to support my Year 11 students in the run up to their practical exams and it had a clear impact on their marks and their overall results!
Thank you for providing such a brilliant opportunity to reignite my practice.
Jack Beswick, Drama & Theatre Studies teacher, Wirral Grammar School for Girls
Learn from industry professionals
The conference supports teachers in their delivery of the Drama curriculum as well as equipping them with the knowledge and skills to nurture the talent of the next generation of theatre makers. In addition, teachers are provided with the space to explore and develop their craft as artists as well as connecting and sharing best practice with other drama teachers from across the country.
Highlights from the 2023 conference include sessions from Gecko Theatre, Vamos Theatre and The Paper Birds exploring topics including physical theatre, devising and mask work.
The conference culminated in a group workshop for all teachers led by Lyndsey Turner, Associate Director of the National Theatre which offered teachers a toolkit for exploring text back in the classroom with students.

Drama Teacher Conference, 2023
Here's what teachers from last year's conference had to say about their experience with us:
I have left feeling inspired, invigorated and intellectually stimulated. Thank you, National Theatre, for adding fuel to my fire of passion for Drama, Theatre and Education.
I cannot thank the National Theatre enough for the way they enhance my practice and the experience of my students and their creative development through the range and quality of the programme they offer, including this conference.
It was a fulfilling and exciting day. It felt like a holiday which was needed as we were in our half term. I wouldn't hesitate to book again.
Follow us on Twitter @NT_Schools and keep an eye on our website to stay up to date with further announcements.
To be in with a chance of getting tickets, please complete the application form below – don't miss out!
Apply for the Drama Teacher Conference 2024 here
Photo of Katie Mitchell by Stephen Cummiskey. Photos of Drama Teacher Conference 2023 by Emma Hare.