The National Theatre has a strong record in building high profile corporate partnerships. Our relationships deliver business objectives and ROI for our partners.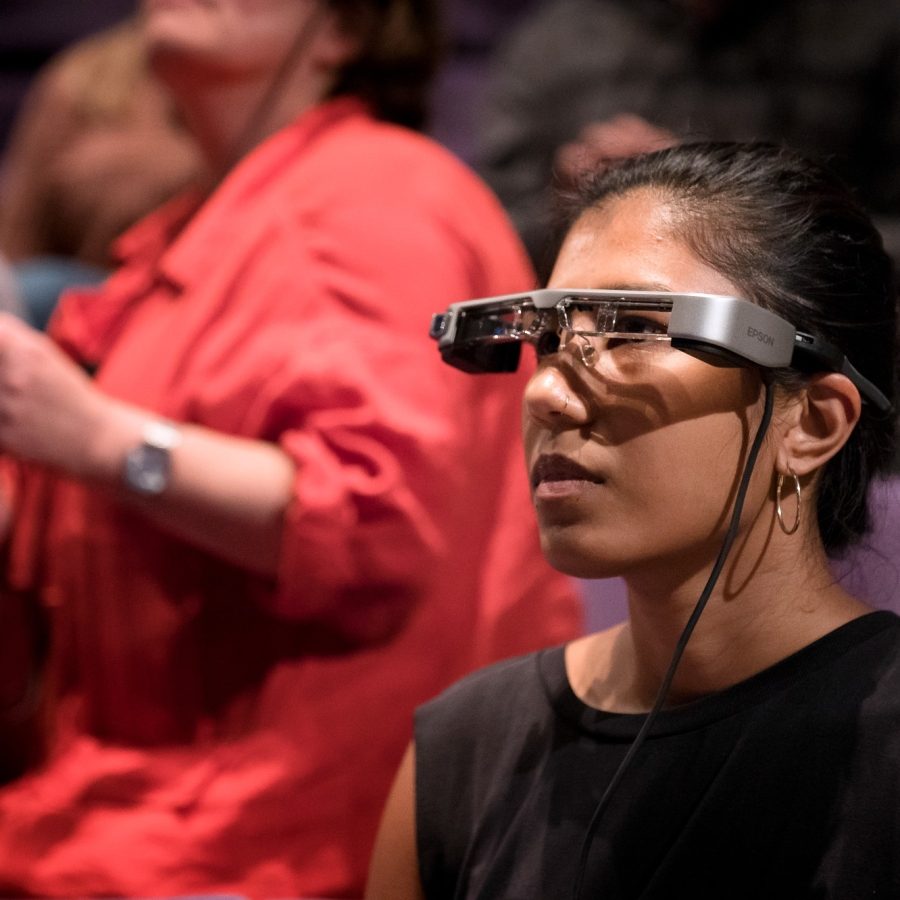 The National Theatre has a strong record in building high profile, long-lasting corporate partnerships.
As an expanding organisation committed to digital transformation, sustainability, and social cohesion, there are many exciting opportunities for new partners. We would be delighted to talk to you about how we can meet your business' needs.
Our bespoke collaborations with companies such as American Express, Bloomberg Philanthropies and Chanel have been independently shown to generate greater brand appraisal.
The National Theatre is proud that many of our sponsors choose to renew their relationships with us year on year. We aspire to create long-lasting, mutually valuable associations.
For further information on corporate partnerships, please contact:
Paris Faro
Associate Head of Corporate Development
PFaro@nationaltheatre.org.uk 
Case study: Partnering with Microsoft
Developing All Kinds of Limbo XR, an immersive holographic performance
In 2019, the National Theatre invited 20 attendees at a time to put on VR headsets and immerse themselves in a virtual experience at our home on the South Bank. All Kinds of Limbo was inspired by Andrea Levy's novel Small Island, which had just debuted on the Olivier Stage, and composer and performer Nubiya Brandon's own life in limbo as a Black British woman. Audiences moved through musical genres of reggae, grime, classical, and calypso and the experience felt so real and communal, people clapped at the end.
In 2022, the National Theatre partnered with Microsoft to help audiences from around the world take part in this communal performance too, —using a VR headset, a computer, or a mobile device to view it in AR. It's a unique experience that doesn't require viewers to leave their homes, yet isn't simply viewable on-demand. It blends theatrical performance with mixed reality, pushing the boundaries of what it means to "go to the theatre" and raising provocative questions about the places we inhabit.
We couldn't have launched this All Kinds of Limbo XR without our partner Microsoft. It was an honour to work with such a leader in technology on this one-of-a-kind new project.
Toby Coffey, Founder of the National Theatre's Immersive Storytelling Studio
Not only does All Kinds of Limbo XR leverage the most innovative technology to democratize shared experiences, but Nubiya's story of identity is at the heart of what will truly connect audiences on an emotional level.Ryan Gaspar, Director of Strategic Partnerships for Microsoft
It's a short piece, but "All Kinds of Limbo" does feel like the glimmering of a new art form: somewhere between music video, video game and live cabaret show.
The New York Times

The National Theatre strives for best practice in fundraising and is registered with the Fundraising Regulator.
We are transparent with our donors and supporters, ensuring that our fundraising is legal, open, honest and respectful.