Equity, Diversity and Inclusion
Making our organisation a place where everyone is welcome.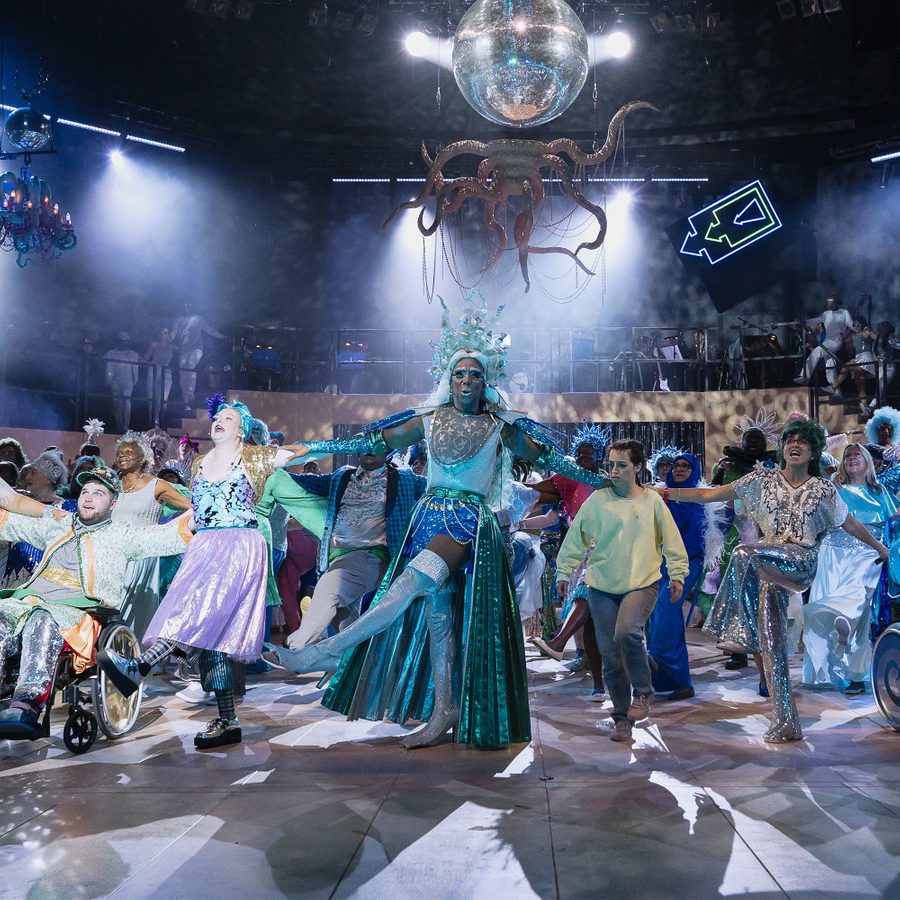 We believe the National Theatre should reflect the diversity of the UK. On our stages. In our workforce. And in the audiences we reach.
Our ambition is to achieve greater diversity in the areas of gender, race and ethnicity, disability, sexuality, socio-economic background, faith and age.
As part of our plan to increase our organisational diversity, in 2016 we set a number of publicly available targets to indicate our progress.
We have made it part of our mission to create an inclusive organisation in which all people feel valued, can be themselves and feel that their voices are heard.
We're currently introducing a new Culture Action Plan and a Culture Department. The information below relates to our progress on diversity to the end of 2021-22.
Our commitments
Set and meet targets for the directors, writers and actors on our stages.
Develop a workforce that is at least as diverse as the UK.
Support the wider performing arts sector with diversity and inclusion.
Develop a culture where diversity is hard-wired into everything we do, understood by all, and creating opportunity for everyone to be a part of the conversation.
The National Theatre is a place where artists can make their best work. We believe these artists should be a reflection of the diversity of this country.
To achieve this, we've set the following targets to increase diversity on our stages:
50% of living writers for our stages will be female
50% of directors working on our stages will be female
There will be 50:50 gender balance on stage.
20% of writers for our stages will be from the global majority
20% of directors working on our stages will be from the global majority
At least 25% of performers will be from the global majority
Our progress
In 2021-22, in our theatres:
50% of living writers were female
36% of directors were female*
50% of performers were female
35% of writers were from the global majority
29% of directors were from the global majority
36% of performers were from the global majority
*Our planned programme for the year was disrupted by Covid. Had all planned productions gone ahead, the target of 50% female directors would have been met.
By March 2020 we were on track to meet our targets relating to staff. Sadly, reductions made to our workforce due to the financial impact of COVID, have temporarily had a negative impact on representation in some areas of the organisation.
We remain absolutely committed to ensuring we build back with a more diverse workforce, with the following aims:
20% of our workforce will be from the global majority.
We will sustain a gender balanced workforce.
We will maintain a gender pay gap below 5%.
Our progress
In 2021-22, across our workforce:
18% of our staff were from the global majority
57% of our staff were female
Our gender pay gap was under 5%
We are a Disability Confident Committed employer
As an employer, we have made the following commitment to increase accessibility in our workplace.
Ensuring our recruitment process is inclusive and accessible.
Communicating and promoting vacancies through a range of channels.
Offering an interview to disabled people who meet the minimum criteria for the job.
Anticipating and providing reasonable adjustments as required.
Supporting any existing employee who acquires a disability or long term health condition enabling them to stay in work.
At least one preset activity which will make a difference for disabled people.
Find out how you can join our workforce. Explore our current vacancies, apprenticeships, work placements or volunteering opportunities.
We believe that theatre is for everyone. We aim to share our work as widely as possible, attract diverse audiences, and to keep a significant portion of our tickets at an accessible price.
As part of our 2018-2023 business plan, we've set several aims to help us to continue to widen our audience on the South Bank, as part of a wider audience development plan to help us reach new audiences right across the UK through touring, participation activity and broadcast.
A minimum of 20% of bookers to be under 35 each year.
To increase audiences from the global majority in our theatres to 10% by April 2023.
To maintain the proportion of first time bookers at 30% or above.
Our progress
In 2021-22, on the South Bank:
22% of bookers were under 35
11% of our audience were from the global majority
30% of bookers were buying tickets for the first time
With thanks to the MAP Fund, whose support makes this work possible.