Theatreworks facilitators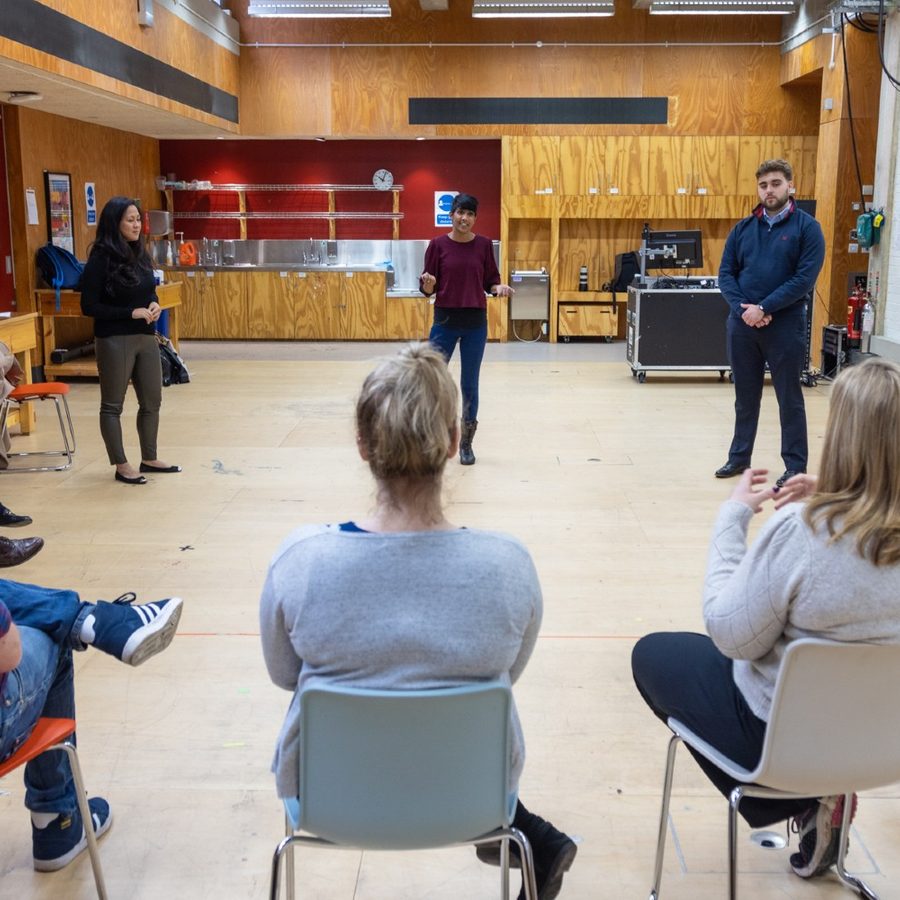 Meet our Theatreworks facilitators, from actors to directors to writers.

Tom Anderson
Tom is a theatre and TV actor with credits including A Midsummer Night's Dream and Comedy of Errors at the National Theatre. With over ten years of experience in providing bespoke communcation training for major international clients, he has also run training for corporate and public sector organisations.

Kate Beales
Kate is a director and longstanding National Theatre Learning Associate. She is an affiliate trainer at The Ariel Group in Boston and teaches theatre-based leadership, personal impact and communication training to Fortune 500 companies across Europe and Asia. Kate also holds an MSc in Conflict Resolution and Mediation.

Joanna Burnett
Joanna is actor whose work has ranged from classical acting in some of the UK's major theatres to roles in television dramas such as Bodyguard, Extras and Spooks. She also works as a facilitator, tutor and trainer in communication skills and acting, and draws on her performance background when working with professionals in developing their personal skill set.

Didi Hopkins
Didi is an actor and director whose present practice mixes her theatrical and performance background with training and consultancy work, helping people in business find creative ways to maximise performance. Didi is an international specialist in the tradition of improvisation-based physical theatre, Commedia dell'arte.

Gillian King
Gillian is an actor and director who has worked for the National Theatre, the RSC, Drama Studio London and regional theatres. Her work is diverse; ranging from directing in the West End to running workshops for those on life sentences in prisons. Gillian has also been a guest speaker on leadership topics for several global organisations.
Debbie Korley
Debbie is an actor who works extensively in theatre and television, from roles on stage with the RSC to on-screen appearances in shows including Holby City and Doctors. Debbie teaches at LAMDA and The Brit School, and leads workshops for the National Theatre's Let's Play primary school programme as well as for Theatreworks.

Corinne Micallef
Corinne works extensively as a theatre director, facilitator and coach in the UK and internationally. She has served as Artistic Director and Joint CEO of independent theatre company Phakama UK and Oxfordshire theatre venue Pegasus, and has been a visiting lecturer at various universities.

Clare Murphy
Clare is a storyteller who performs internationally. In her work as a trainer she teaches storytelling and communication skills to clients, including the National Trust. Clare's performance work has a contemporary slant and she is often compared with raconteuses and stand-up comedians.

Al Nedjari
Al is an actor and movement director whose work has most notably included War Horse, both at the National Theatre and in the West End. Other credits include work as a movement artist on the Oscar-winning Gravity and as a movement director on From Morning to Midnight, also at the National Theatre.

Adam Russ
Adam is an actor, writer, director and coach who has been delivering and facilitating events for Theatreworks since 2011, working with clients including Pepsi and Jaguar Land Rover. Adam's work as a coach is based around narrative and archetype, which is a key focus for his workshops on storytelling.

Sarah Thom
Sarah trained with Jacques Lecoq in Paris and works as an actor, director and workshop leader. She works regularly for BBC Radio 4 and was the recipient of the Norman Beaton Fellowship in 2012. For the National Theatre, her theatre credits include The Adventures of the Stoneheads and A Taste of Honey.

Jem Wall
Jem has worked extensively as an actor at the National Theatre, the Globe, the Young Vic, the RSC, in London's West End and has multiple film and TV credits. In addition to working as a facilitator for Theatreworks, he has worked with leading business schools including in Paris, Switzerland, Berlin and Madrid.

Archive
Interested in theatre history? Then the National Theatre Archive is the place for you.
Archive landing page